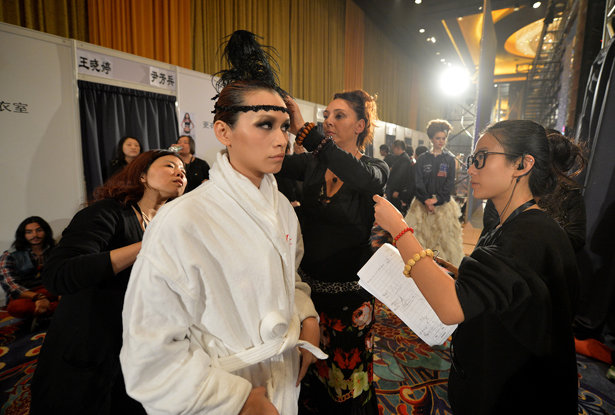 ShareThis
Take this web seminar to learn valuable tips for setting yourself apart from the crowd when you apply to your dream job in the fashion industry!
At a Glance:


This web seminar will teach you how to use your technical skills in sewing, pattern drafting and/or design to land a job in the fashion industry.
You'll learn tips and best practices for developing a portfolio and resume that appropriately highlights your strengths and exposes your passion for fashion.
Broaden your understanding of positions within the fashion industry to pursue a career that plays to your strengths and interests.
Click here to register for Monday's web seminar How to Land a Job in the Fashion Industry.
Whether you're a fashion school graduate or a savvy seamstress with a mountain of projects under your belt, having the skills doesn't necessarily guarantee you a job in the ever-competitive fashion industry. With hundreds of candidates applying for a single position, you really need to set yourself apart from the crowd in your resume, portfolio, and personal brand before you even have the chance to show an employer in person those marvelous skills you've worked so hard to cultivate.
Discover employment possibilities in the exciting world of fashion and turn your passion into a rewarding career. This live webinar will help you to identify your strengths and learn how to present them to a fashion employer so that you stand out amongst the competition. Educate yourself on the resources available to help gain experience, build your network and market yourself in the fashion industry and to potential customers.
Learn how to land your dream job by registering for Monday's web seminar!
The web seminar will be presented LIVE on Monday, January 13th at 11am EST | 4pm GMT. Can't attend? No problem, each registrant receives a recording of the live event in their thank-you email on the Thursday after the web seminar, and can ask follow-up questions via email about the material presented.
What You'll Learn:



Employment possibilities in the fashion industry and pathways to landing these gigs.
How to build and polish your fashion resume and compile a suitable portfolio.
Advice on effectively presenting yourself and your skills during a fashion related job interview.
Means of which to build your fashion network.
Creative methods of building a customer base for new fashion industry entrepreneurs.
Ready to nab a job in the fashion industry? Click here to register!
Who Should Attend:

Recent fashion school graduates
Current fashion school students
People with strong sewing, drafting or design skills wishing to turn their passion into a career
Individuals wishing to further their understanding of the fashion industry
New designers wishing to grow their customer and network base
Individuals wishing to expand their fashion industry network
Have a question about a specific technique? There will be a Q&A session at the end of the web seminar where you can ask Becky any questions you have, and no question goes unanswered!
Can't attend the live web seminar? Everyone who registers will receive a recording of the event in next Thursday's thank-you email, along any downloads or resources referenced during the web seminar, and will have the ability to ask any follow-up questions via email.
Register Here for Monday, January 13th's live web seminar at 11:00am EST (4:00pm GMT).
Hope to see you all there!