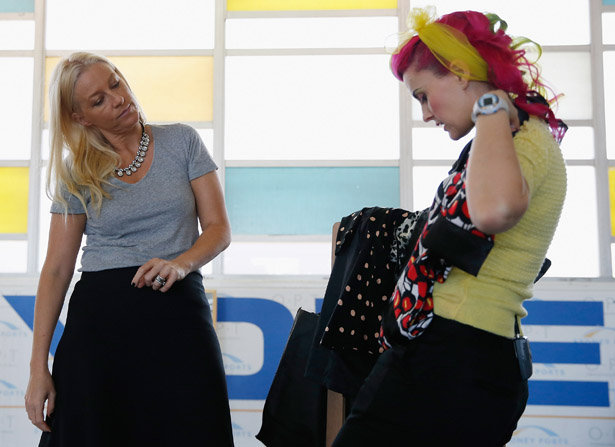 ShareThis
Do you own or are thinking about staring your own custom sewing business? This web seminar will give you the tools you need to make interacting with your client a success from start to finish.
Victoria Baylor of Ten Thousand Hours of Sewing will explain how to properly interact with clients to create and execute a wonderful product in Thursday's live web seminar at 11am EST (4pm GMT). Click here to register!
Victoria's web seminars are always chockfull of helpful information, and she has been running her own custom sewing business for the past 8 years, so we can't wait for Thursday's web seminar!
Sewing for others is a rewarding experience, but a very involved one. It requires professionalism, great technical skills and good people skills. It starts with a consultation in which ideas are discussed. Work is then initiated and executed to yield a wonderfully finished product. It's about teamwork between you and your clients. With so many steps in the process, there's no wonder why sewing for clients can oftentimes be very challenging. Truth be told, there's potential for a lot to go wrong along the way.
This is a must-see presentation for sewers starting their own custom sewing business!
What You'll Learn:



How to get the most out of client consultations by outlining an effective plan of action.
The benefits of including a work quote and work agreement for your clients.
How to confidently discuss your fees and how to charge for extra services. Get paid what you're worth!!!!
How to keep yourself from "getting in over your head" by being clear about your skill level and what you can or can't deliver.
Examine how implementing a good and strong business policy cuts down on problems.
Pinpoint the most common challenges faced when working with a client and how to create resolutions for them.
Tips on how to confidently and calmly interact with clients.
How to create a reasonable timeline for work completion.
Learn the art of negotiation that will work in the best interest of both you and your client.
Assist clients in picking clothing designs that flatter them and fine tune their design choices.
Who Should Attend:



This web seminar is for anyone who already has or is interested in starting a business sewing for others
Anyone that currently has a business and would like to gain more helpful perspective and insight
Have a question about a specific technique? There will be a Q&A session at the end of the web seminar where you can ask Victoria any questions you have, and no question goes unanswered!
Can't attend the live web seminar? Everyone who registers will receive a recording of the event in next Thursday's thank-you email, along any downloads or resources referenced during the web seminar, and will have the ability to ask any follow-up questions via email.
Register Here for Thursday, January 30th's live web seminar at 11:00am EST (4:00pm GMT).
Hope to see you all there!