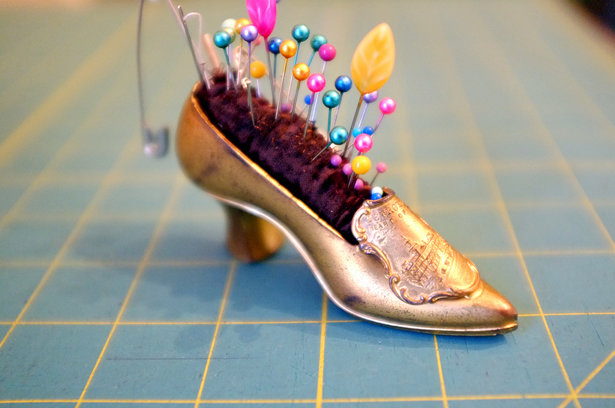 ShareThis
Do you love to sew your own clothes but struggle with getting the fit just right in spite of doing pattern fittings or even sewing a muslin?
While all major fitting adjustments are best done before the first pattern piece is cut, the fitting process doesn't end there. In Thursday's web seminar, Linda Reynolds of Simply Sewing Studio (www.simplysewingstudio.com) will teach you how to achieve a fit in your garments that is superior to what is available in ready-to-wear.
The web seminar will be presented LIVE at 11am EST | 4pm GMT. Click here to register.
All materials perform differently, so what appears to fit during the pattern fitting stage or as a muslin may be a bit too snug or loose in the chosen fabric. Darts don't hit in the right place or waistlines aren't exactly where they belong. Fine tuning the fit throughout the entire construction process will ensure the finished garment fits in all the right places.
Getting that perfect fit is a process. Fitting is one of the most challenging aspects of garment sewing, but when done well, it provides the greatest reward in a garment that is comfortable to wear and conforms to the body
This web seminar is dedicated to addressing how to adjust fit while pattern pieces are being assembled. It provides tips and techniques for ways to fine tune the fit to the bodice, skirt and sleeves. Learn the stages during construction when fitting should be done. Learn how to pin fit and the various methods to transfer markings so grainlines remain in tack. In addition, you'll learn the 3 inch rule when it comes to fitting side seams."


Click here to register for Thursday, January 9th's live web seminar.
Can't attend? No problem, each registrant receives a recording of the live event in their thank-you email on the Monday after the web seminar, and can ask follow-up questions via email about the material presented.
What You'll Learn:



The 4 key fitting opportunities before the first pattern piece is cut
The key fitting adjustment stages during garment construction
The 3 inch rule to fitting side seams
How to pin fit during construction
Methods for transferring markings when adjusting fit
How to maintain grainline integrity when implementing fitting adjustments
Skill Level:
This web seminar is for any sewer looking to fine tune their skills when it comes to fitting. A solid base of fundamental sewing skills is necessary. A general understanding of how to use commercial patterns and basic garment construction is also helpful.
Have a question about a specific technique? There will be a Q&A session at the end of the web seminar where you can ask Linda any questions you have, and no question goes unanswered!
Can't attend the live web seminar? Everyone who registers will receive a recording of the event in next Monday's thank-you email, along any downloads or resources referenced during the web seminar, and will have the ability to ask any follow-up questions via email.
Register Here for Thursday, January 9th's live web seminar at 11:00am EST (4:00pm GMT).
Hope to see you all there!