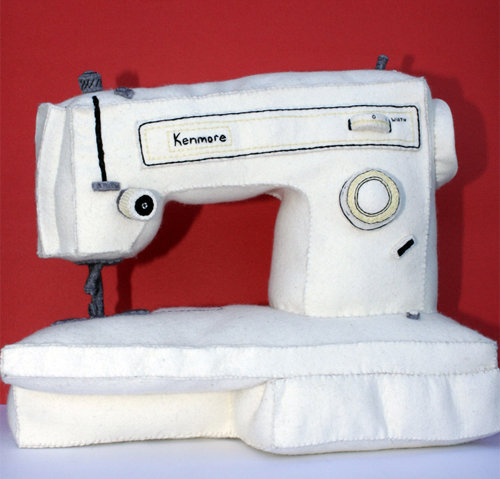 ShareThis
Blythe Church – Electronic Objects Reinvisioned as Soft Sculpture
Blythe Church, a Canadian artist working in Dartmouth, Nova Scotia has made some lovely soft replicas of household objects, cameras and robots. Church says her work is inspired by the art of Claes Oldenburg, who has made such sculptures as the Soft Bathtub and Clothespin (a giant sculpture of a Clothespin displayed outside of Philadelphia's City Hall). Church, who has an upcoming show, was kind enough to answer some questions about her work.
When did you first start making soft sculpture?
I made my first piece, an Olympus camera as a Valentine's gift for my boyfriend in 2007. He loves photography and has a huge camera collection so I thought a felt one would be perfect for him. I used some left over wool felt from a project at school that I dyed dark grey and I labored over it for a week. When my friends saw it they suggested I try making other things and I haven't stopped creating since then!
What inspires you to recreate everyday items into soft sculpture?
I'm really inspired by things I find in thrift stores. My boyfriend and I love collecting quirky vintage objects. He owns about 40 cameras and I love vintage toys and ceramics. For my upcoming show I decided to make pieces inspired by objects that made sounds after finding an awesome boombox in a thrift store. I love to challenge myself by choosing to make objects with really intricate details. My hardest piece to date was an Underwood typewriter that took me a month to complete. Since making that piece my collection of typewriters has increased, I have a row of them waiting to be remade.
Can you explain the process of making these objects?
I begin by hand dyeing wool felt. Then I make pattern pieces from the object and cut out all the pieces in felt. I usually embroider all the details before I sew all the pieces together. I use regular soft toy stuffing inside each object.
Have you ever thought about adding electronic components, specifically soft circuits, to these items so that they have some of the functionality of real electronic items which they mimic?
I do love the idea of having pieces that actually work. The boombox that I just made has a cavity inside where you can put actual speakers so that it can be hooked up to your ipod and it will play music. Unfortunately, I'm not technologically minded when it comes to building circuits but maybe collaboration in the future is possible.
Aside from electronic replicas, Church also creates soft "monsters" using recycled materials, like old sweaters, blankets, jackets, buttons, and other items you'd find at thrift stores. Church likes the idea of giving these materials a new lease on life as her scary monster creations.
Church will be showing her work at a show called "The Pitch of the Stitch" at Argyle Fine Art in Halifax, Nova Scotia April 11 –27. She also sells some of her items at etsy.