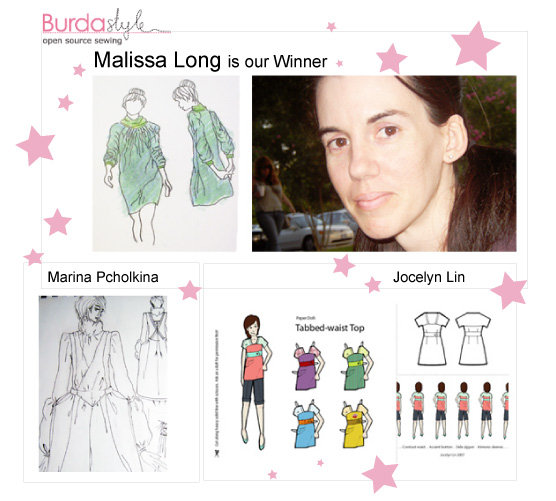 ShareThis
Finally, after a long night debating, we have come to a conclusion in our design/drawing contest.
Before announcing the winner we just wanted to state how impressed we are. You all are some of the most talented and creative people out there, it makes all the hard work worthwhile and keeps us going. Looking through the submissions was inspirational, as we found numerous designs that were easy to make, presented beautifully, and incorporated the idea of a global community, just as we try to do here at BurdaStyle.
Nevertheless we had to choose and our winner is:
……. MALISSA LONG!! Also known as mlssfshn.
She, as the winner for design will receive 300 USD. Her design will be produced as free download for all BurdaStyle members.
Her "Sweat Dress" design stood out in all BurdaStyle criteria's that we used to make a fair and sound decision.
Malissa, who tends to feel cold, often found herself wanting warmth, but not at the cost of looking fashionable, and so created a strong concept of a toasty but stylish dress.
Her inspiration is a common sweatshirt, a garment thrown on casually for warmth. She developed it further, making it into a dress that, depending on the choice of fabric, can be worn for a variety of occasions. Just imagine it in a pastel silk jersey, decked with Swarovsky jewels on the neckline, worn for a formal event. Or suppose it's made in a more casual knit, accentuated by a different color choice for the rib on the hem and the turtleneck, rocked with slouchy boots to school or work. The possibilities are endless.
Her concept leads right into the open source idea. The dress, inspired by a casual sweatshirt, is an accomplished design in itself, but still leaves plenty room for pattern and design changes. Some of you may prefer it without the turtleneck, or a ¾ sleeves. And that is what we want to encourage you to do, take a pattern and make it yours!
Even though the Design is very distinct, it is simple and easily constructed keeping all skill levels in mind. Last but not least we loved her free and artistic style of drawing.
So many of you impressed us with not only your illustrating skills, but the ideas behind the designs as well! We've never been more "WOWed" and are thrilled to be on the receiving end of such brilliance! So, we would also like to share with you two submissions that are receiving our honorable mentions. For design merit, we award Jocelyn Lin's Tabbed-Waist Top. Not only was it presented uniquely, but the concept was well thought out and explained as well. See also her website. For artistic merit, we were marveled by Marina Pcholkina, who, with her intricate and detailed illustrations, showed herself as both an artist and a designer.
Again, we thank all of you for your submissions and stay tuned for tomorrow, when we will announce the winner of the pattern-making competition!