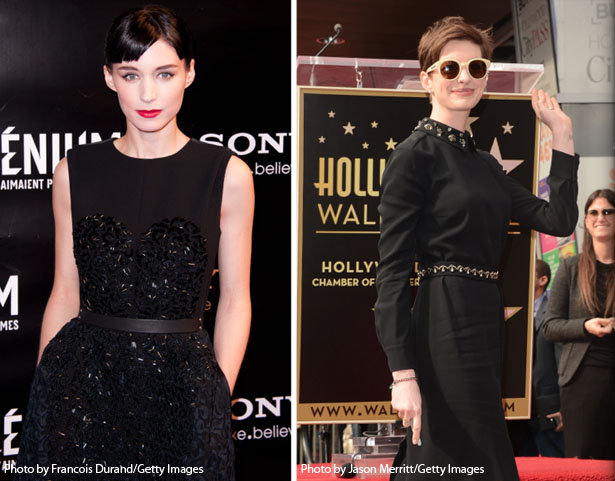 ShareThis
Coco Chanel is often credited with inventing and popularizing the little black dress (LBD) with her modest, straight-lined 1926 black day dress done in the garçonne style. Vogue lauded it as Chanel's "Ford" (like the Model T).
I recently finished sewing an LBD in a basketweave wool with scalloped guipure lace sleeves, a first for me since I usually opt for prints and bold splashes of color. I haven't decided if I'm going to wear it for Valentine's Day yet, but regardless, I'm happy to have another versatile, timeless go-to dress in my wardrobe that will hang nicely next to my favorite Chloé and A.P.C. LBDs.




What would your ideal LBD look like? Here are some noteworthy (and not so basic) LBD looks from the runway and red carpet, as well as inspiring member creations and sewing patterns that you can DIY!

Use your illusion (neckline, that is). Illusion necklines are demure and allow room for fabric play, such as adding a sheer yoke that can be done in chiffon or a dotted voile, similar to this relaxed look from Rachel Comey's Spring 2013 collection (below, left). Alternatively, you can go for a bolder look with cutouts, as with this Calvin Klein wool LBD worn by Rooney Mara with mesh cutout detailing (below, right).




Add a sweetheart neckline detail like BurdaStyle member Feenambulle did on her black lace party dress (below, top left). With the right fabric combination, you can easily make these looks yourself using the Illusion Neckline Dress pattern (below, right), or the pleated Chiffon Dress pattern (below, bottom left).




Cut it out. Add structured femininity to your look and accentuate those curves! Anne Hathaway looks stunning in this sleek, curve-enhancing Victoria Beckham LBD with shoulder cutouts (below, left). Or, opt for a more masculin féminin ensemble. Here, Emma Watson exudes a certain tomboy chic in a black cut-off ballgown styled with black cigarette pants by Christian Dior Couture (below, right).




Achieve a similar look using the Cap Sleeve Cocktail Dress pattern featuring metallic insets (below, bottom left). Or, try one of my favorite patterns – the V-neck LBD (below, top left), which I made in a double face jacquard a few months ago. Another style with the same structured vibe is the Seamed Sheath Dress (also available in three-quarter sleeves). BurdaStyle member Emily's "rebellious" take on this pattern (below, right) was her first sewing project in nine years!




Go lux. Embellish your garments with lace, sequins, and beading. Bella Heathcote dazzles the red carpet in a mini Dolce & Gabbana short sleeve floral appliqué dress (below, right). Raven-haired Rooney Mara wows us again in another LBD number, this time a black crepe bead-embellished sleeveless cocktail dress by Louis Vuitton (below, left).




Make your own handmade variation using the Lace Sleeve Dress (below, right) as your base pattern and experiment with different fabric types on this silhouette. I also love the Dress with Back Bow (below, left), which has an elegant back neckline that would work beautifully as a special occasion dress.




Coming full circle. A gathered-waist look allows you to play with volume, and dropped waistlines and flounces are fun and flirty. You can pull off a more casual look, as fashion icon Alexa Chung did wearing a black embroidered sleeveless Simone Rocha dress to the 2012 British Fashion Awards (below, right). The other fashionable Mara sister, Kate, wears a black jersey drop-waist dress with a double-layered flounced skirt by Givenchy to a movie premiere (below, left).




If you're going for more modern '20s, check out the Louisa Drop-Waist Dress (below, top left) from my new book BurdaStyle Sewing Vintage Modern to get yourself started. For a fuller skirt, similar to BurdaStyle member MademoiselleP's La Petite Robe Noire (below, right), try the popular Cap Sleeve Gathered Waist Dress (below, bottom left). This is an easy pattern and a great palette to start with for multiple dress variations. You can play around with the length and fullness of skirt depending on the type of fabric you're using, vary the neckline, etc.




So, what's your favorite look?


Jamie Lau is BurdaStyle's Editorial and E-commerce Manager and the Co-Author and Lead Designer of our new sewing and patternmaking book BurdaStyle Sewing Vintage Modern: Mastering Iconic Looks From the 1920s to 1980s. A self-taught seamstress, she now designs for her eponymous fashion label and teaches sewing courses in New York City, where she resides.