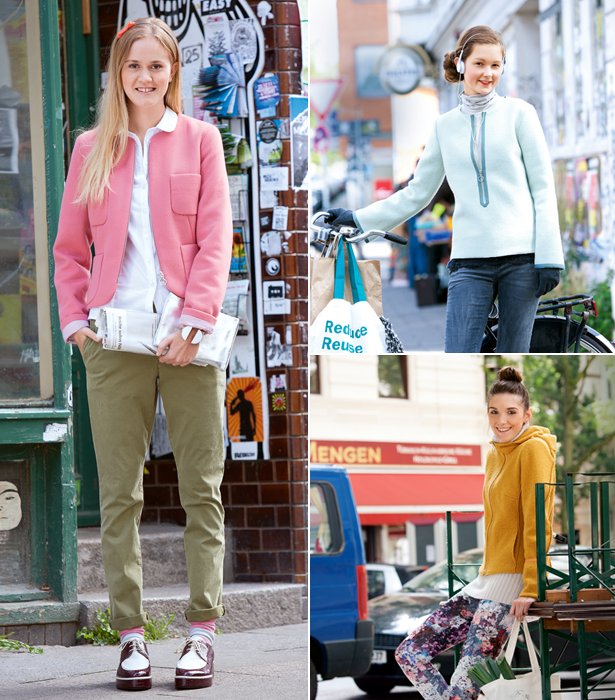 ShareThis
This new pattern collection from burda style magazine's December issue is a hit on the streets! Fulled fabrics are back again – and not just for jackets, but also for hoodies and hipster-skirts in vibrant colors and new styles. This revival of wool fabrics will have you looking fly and feeling warm on your winter walks. See all the urban styles below.
This long Transform Jacket is a really striking garment, whether it's worn with jeans – as it is here – or with a skirt or dress. The key is the hood which is so big that it opens up like a coat collar. XXL pockets and an open edge finish make for a casual style jacket.
This Tri-Color patch-work coat is such an eye-catcher! Wearing it over slim jeans brilliantly brings out the coat's lovely tailored style.
Why not sew a curved horizontal seam? It looks great on this slightly flared loden Skirt with color blocks! And it goes beautifully with the cool scarf and knitted headband.
This lovely little Zip Up Top is feminine, but not in an exaggerated way. It is both gentle and womanly while also being reserved and simple. Sewn-on contrasting ribbon give it a special flair and with its open hem edges and straight-cut, this pattern is particularly ideal for beginner sewers.
This Hooded Sport Jacket is something that suits all occasions: A fitted casual jacket with hood that opens up and turns into an XXL collar. The jacket goes with pretty much everything and looks super great in this trendy, mustard yellow fabric. The flowery print leggings are certainly a great match!
Well dressed but with a casual tone. Here it is achieved with this sweet, short Curved Jacket that pairs great over a blouse and chinos. The curved pocket edges give the look a really cute touch and an edgy style clash is made by the addition of a front zip instead of buttons.
Happy Sewing!