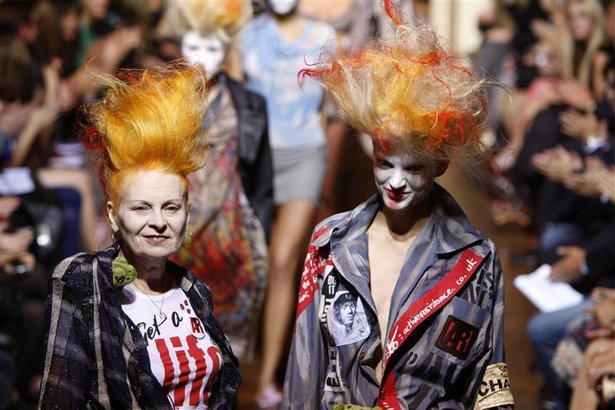 ShareThis
Malcolm McLaren was a major force behind the punk sound that emerged from London in the mid 1970's. While it can be disputed whether or not it was McLaren who came up with the concept for his protegee band, the Sex Pistols, or if it was the band members themselves (i.e., Johnny Rotten and Sid Vicious) no one can dispute that it was his partner Vivienne Westwood who actually created and sewed the looks that the band wore. By studying the fashions of London's seedier occupants like bikers and sex workers, Westwood and McLaren conceptualized the new deconstructionist fashion phenomenon known as the "punk look".

Westwood with Malcolm McLaren

Westwood and McLaren's store in London, circa 1975

The Sex Pistols, Westwood in 1977
Her iconic angry fashions with their safety pins, razor blades, dog collars, and chains spoke to an entire generation of alienated kids. Whether it was the bad economy in England, the recent breakdown of traditional values, or a backlash against the hippie zeitgeist, what caused the punk movement is something that has been widely debated. I just know as an angry young punk in the early 80's that I WANTED a pair of those cool chained, belted, and zippered plaid "bondage" pants. I never did get a pair and had to make do with draping my torn jeans with lots of belts!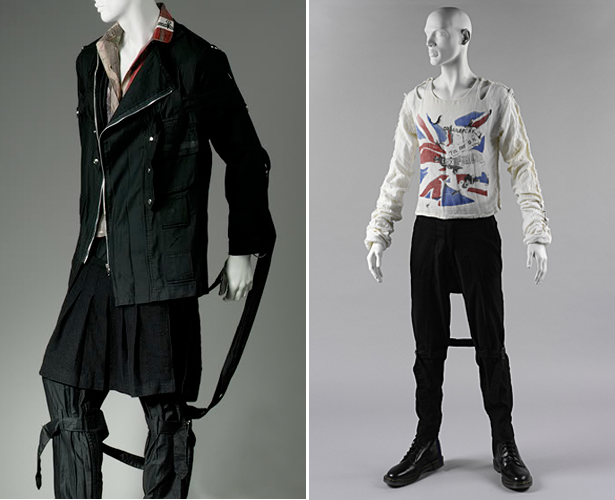 McLaren and Westwood's iconic "Bondage" suits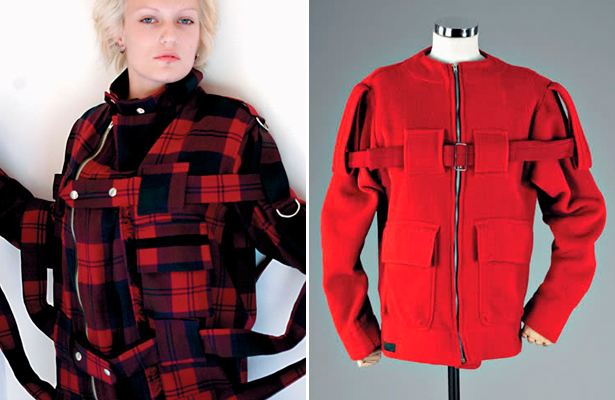 The "Bondage" jacket
Not only did Ms. Westwood create "the punk look" but she also went on to design the "New Romantic" pirate look that came after which was worn by the likes of Adam Ant . She also outfitted clothing for the pop fashion icon Boy George. Vivienne Westwood is still designing today to much critical acclaim, although her clientele is a lot more affluent these days.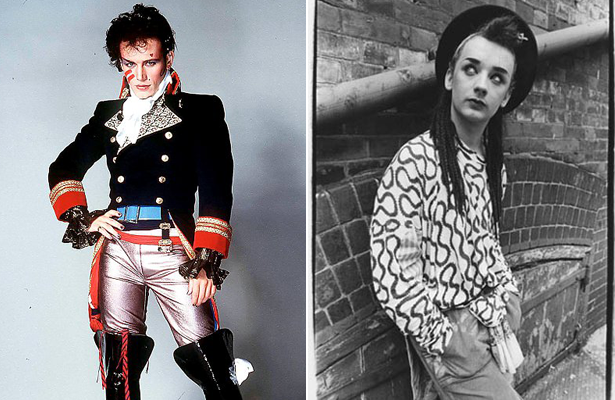 Adam Ant, Boy George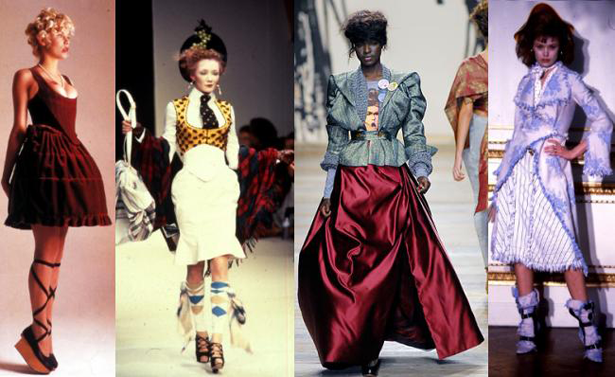 Some of Dame Westwood's looks on the runway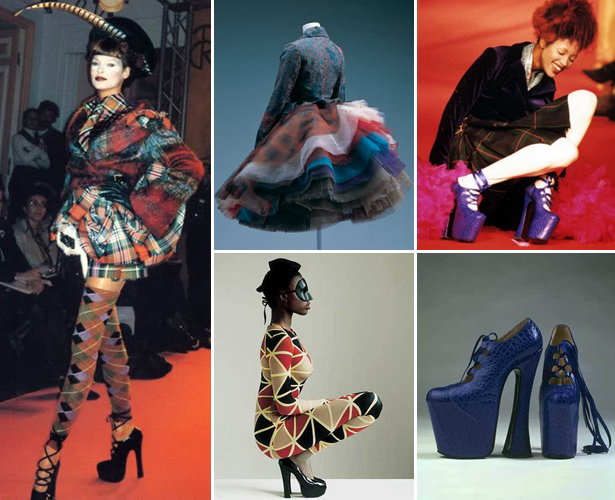 Clockwise from left: Linda Evangelista on the runway for the Anglomania A/W '93 show, design circa 1993, Naomi Campbell in Westwood's 10 inch platform shoes, the shoes, Harlequin from the Voyage to Cythera collection A/W '90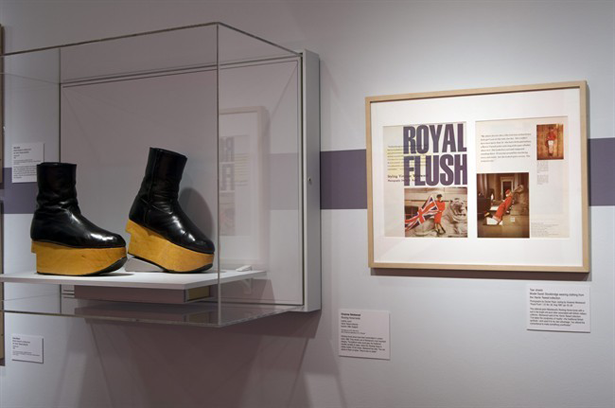 Westwood's recent retrospective at the FIT Museum in New York
For someone who only spent one year in fashion school and who taught herself how to make the corsets and iconoclastic clothing which made her famous, this designer has made a lasting impression. At 70 years old this is what she had to say about todays young generation in a recent Wall Street Journal article:
"Now I don't put any faith in youth. I do to the extent that they are always idealistic, but the last lot of them have been brought up to be heavy consumers."
I'm sure Ms. Westwood would agree that is all the more reason for we sewers to be "sewing evangelists!"
~Justine
After moving from Los Angeles to an old farmhouse in the country with her husband and four children, Justine Abbitt, a trained fashion designer, found shopping outside the city rather uninspiring, not to mention difficult, so she decided to get busy with her needle and thread to start making things for herself and her family. Looking to get in touch with other DIYers, she started her sewing blog, Sewcountrychick, which is also about country living through an ex-urbanists perspective.
Photos courtesy of The Fashion Spot and Google images.