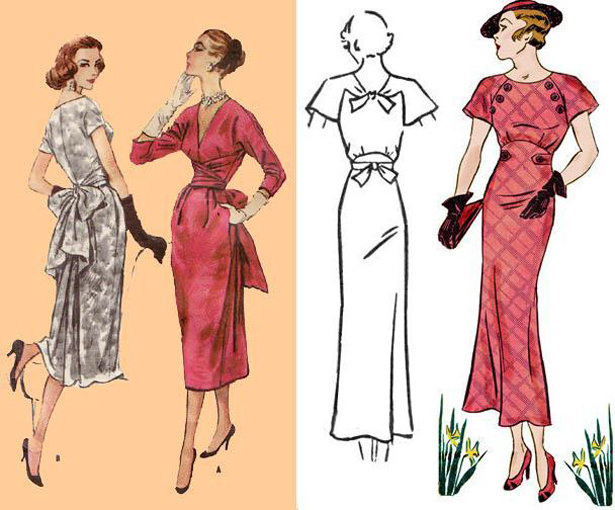 ShareThis
There are plenty of things that intimidate modern sewers about vintage patterns, but the scariest issue to overcome is usually sizing. If your bust measurement is larger than 36", it can seem impossible to find a pattern for you. Believe me, I know how frustrating it is to see all the fabulous patterns out there, and then to discover that you can't find it in your size. But plus size ladies don't have to give up on the idea of sewing vintage. Quite the opposite! Retro styles are especially flattering on women with curves. Here are some tips for dealing with the size gap.
1. Persistence. Plus size vintage patterns are certainly out there, but you need to develop an obsessive dedication to finding them. One of my favorite bloggers, Carolyn recently made this comment on my blog:
Plus size vintage patterns can be found but it takes a great deal of looking. I have amassed a little collection of them and actually made a few. Believe me it's easier to start with a vintage plus pattern than to grade up.
My favorite spots are Lanetz Living, Out of the Ashes and the Blue Gardenia . . . You will need to spend a lot of time trolling for patterns, but they are out there to be found!
www.lanetzliving.net
www.risingfeenix.com
www.thebluegardenia.com
2. Explore independent reproduction companies. Eva Dress is a company that grades original vintage patterns into multiple sizes – some up to a bust size 50". Decades of Style is another great independent business that offers true reproductions in a large range of sizes. (See two great options above!)
3. Try reissues from the Big 4 Pattern companies. Vogue, McCalls, Simplicity, and Butterick all reissue their own patterns from decades past, usually up to a size 22 (a 44" bust). Keep in mind that these are not true reproductions: they are updated for today's sizing and techniques. In some cases, this can be a great thing. Other times, you might find you need to do a bit of finessing to get the vintage silhouette you want.
4. Use contemporary patterns to make retro styles. Vintage style is really all about silhouette and styling. Sheath dresses, capelets, pencil skirts, secretary blouses, and dirndl skirts are all shapes that are available in modern patterns – right here on BurdaStyle! Look at the Lindsey Cape, the Fatina Shift, the Emily Variation 1, and the Alexis skirt are all great options that can be easily customized with vintage flair. Do some visual research on retro elements, and with some very basic patternmaking skills, you can make vintage-inspired looks that are completely unique.
Remember, the great thing about sewing is that you can tailor clothes to fit you, no matter what your body type. Spend plenty of time fitting your garments, and you will look and feel fabulous. Have any more tips on sewing vintage for plus sizes? Please share them in the comments!