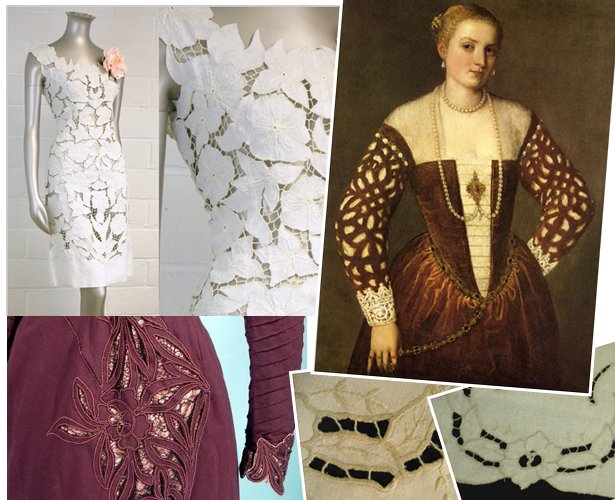 ShareThis
Cutwork is one of the sexiest vintage details out there. It's also the brainchild of nuns. Go figure.
A forerunner of needle madee lace, cutwork is an umbrella term that is used for a number of different techniques – Broidery Anglaise, Renaissancee Embroidery, Richelieu and Venetian Embroidery. They all pretty much result in a similar effect, that is, a cut-out shape in linen or some other tightly woven
fabric where the raw edges are bound by satin stitches, buttonhole stitches or, in the case of Richelieu, a modified buttonhole stitch.
The basic idea behind each is also the same: work the design in stitches, then cut out the cutouts without cutting into the stitches. Cutwork originally appeared in sacramental robes and grave cloths of saints as early as the 12th century but the nuns' know-how was kept a secret from laypeople until the 15th century when upper class ladies started incorporating the technique into their linens and altar cloths. Today, it's used for spicing up everything from adorable baby christening gowns to racy evening blouses.
Though it looks really tricky, cutwork isn't all that difficult to do. Though you can use a satin stitch on your zigzag machine to complete the outlines or even go nuts with your computerized embroidery machine, the directions below are for doing it the old-fashioned way – by hand! If you're only looking to add a little flair to a neckline or other small area, the hand set buttonhole stitches will add so much class, you'll be glad you took the time to do it the traditional way.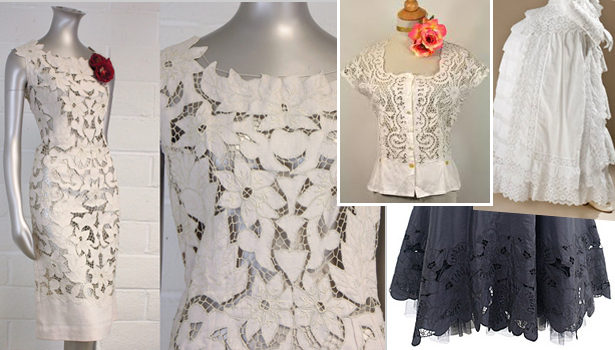 Sept #1 – First, you'll want a linen or cotton-linen blend to work with. Linen is ideal because it's slow
to unravel and you won't even need to use a stabilizer. Transfer your design onto the fabric using an air
soluble pen. Mark an "X" on the cutouts so you don't get confused.
Step #2 – Place your work in an embroidery hoop. Trace around the center of each design line with
two parallel lines of loose running stitches 1/8" apart. The running stitches add a little extra padding to
your buttonhole stitches.
Step #3 – Go over those running stitches with a buttonhole stitch – making sure that the business side of
the buttonhole stitch is facing the cutout area.
Step #4 – If your cutout areas are large, you'll want to work a few "bars" across the space to hold
everything together and prevent gaping. As you are working the buttonhole stitches in step #3, take
the needle up between the two rows of running stitches, across the cutout area and back down between
the opposite set of parallel stitches. Repeat this one more time so that you have a double thickness of
thread creating a little bridge over the cut out area. Now work a buttonhole stitch back over the bridge
WITHOUT sewing into the fabric until you get back to your starting place. Bigger areas will need
several "bars" – use your judgement.
Step #5 – When everything is all outlined in buttonhole stitches, use sharp embroidery snips to cut out
the cutouts. Be careful not to cut into the stitches! (Don't forget to breathe at this point…the tension
can be palpable!!)