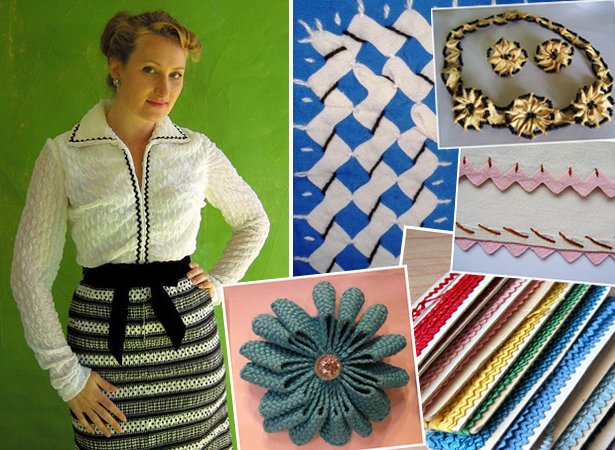 ShareThis
What in the world did we do before there was rickrack? The myriad uses of this notion made it a fabric
store staple before your grandmother was big enough to even sit at the sewing table. You probably
already know that you can applique a skirt with it, gather it into flowers for a crazy quilt, use it as
an edging on a pincushion or pillow, crochet around it and even incorporate it into nifty embroidery
designs.
But, did you know you can braid rickrack?
I almost feel silly sharing this "technique" with you, but when I first came across this treatment on a
vintage tablecloth in a thrift store, it was a real ah-ha moment for me. Sometimes the simplest ideas are
the hardest to come by.
The pictures really sum it up pretty well but I'll tell you how to make braided ric rac just in case. Ok,
first, take a deep breath. Now, take two same-sized lengths of ric-rac, pin them together at the top and
wrap them around each other to form a candy cane pattern. I recommend pressing the final result just
to "set" the trim and get it to lie perfectly flat. Ok, that's it – you're done. Now you have an authentic
vintage detail for your next dress, skirt, apron or tablecloth! How's that for easy sewing?