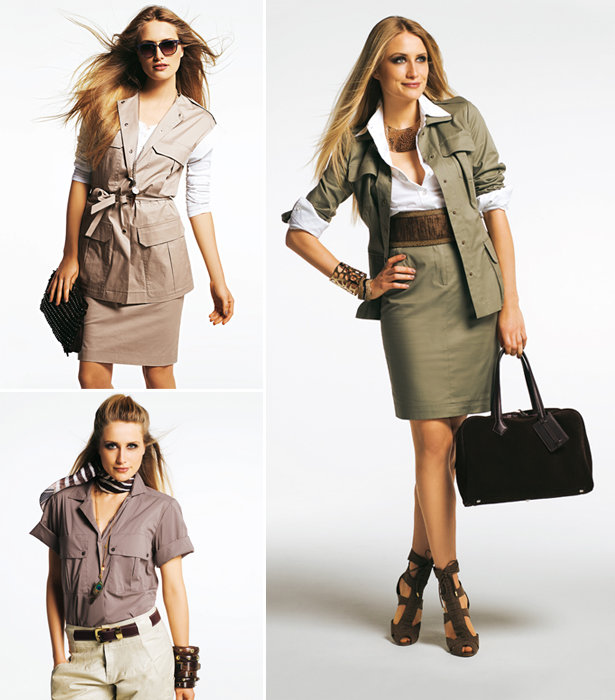 ShareThis
This collection from the February 2011 issue of BurdaStyle magazine features photoshoot ready safari styles. Trousers, skirts and dresses that will have you looking utility-chic.
Click on the pattern image to go to the pattern store page…
This dress is in a safari vest style, it has four front pockets, a button-down front and slight cap sleeves.
This waistcoat features half sleeves, a button-up front, tie waist and lots of front pockets! Pair it with something simple to make your next outfit.
Lace it up! This dress has lots of interesting details including two front flap pockets over the thighs, a loose lace up front and short sleeves.
Zip it! This satin blouse features a front exposed zipper, rolled sleeves and two front flap pockets. A great everyday blouse that can be worn in many colors in various ways!
This shirt looks as though it is two but is actually one. There first layer is a mesh t-shirt and the second is a mesh tank in a contrasting color.
This straight skirt features a front zipper and two front side buttons. A simple and sophisticated piece!
This Safari Jacket is the right jacket for modern women with assertiveness. It include epaulettes, patch flap pockets and permeable belt.
Sporting, long trousers in straight cut, front welt pockets with flaps and a form fit. The elastane content in the fabric ensures freedom of movement.
These shorts are made from cotton poplin with side pockets.
Let's make it short! Exciting mini skirt with classic pleat and large patch pockets in a contrasting color.
This utility blouse features to front flap pockets, cuffed short sleeves and hidden buttons.
This simple pencil skirt features a high waist and a back zipper. The perfect piece to wear for the office or a night out, depending on how you style it.