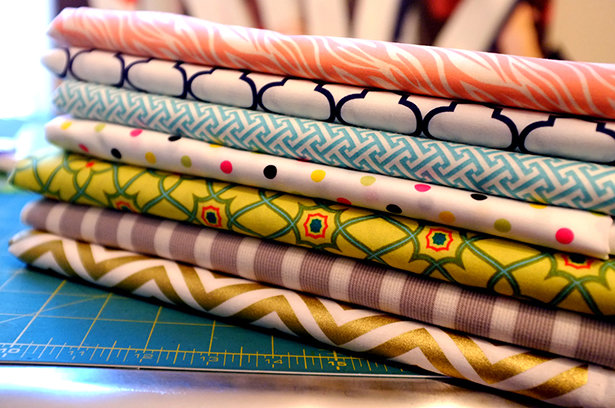 ShareThis
Sometimes it's hard to cut a favorite fabric, let alone throw any of it away! Here are a few easy DIY ways to use up those fabric scraps.
1.Coffee cozy:
Make a wrap for your coffee cup out of layers of cotton and insulated batting for a cozy that will keep your hands from burning and look cute! Make a rectangular pattern, measuring the circumference of your cup + 1/2" for the length, and 3"-4" for the width. Keep in mind that you may have two different length measurements at the upper and lower edges, depending on the shape of your cup. Add seam allowance. Use the pattern to cut out two pieces of cotton and one piece of batting. Sew all three layers together around the edges, with the two cotton pieces laying right sides together, and the cotton batting on top. Leave a space at one end, and turn inside out and topstitch. Sew an elastic loop on one end, and a button on the other to hold the cozy in place on your cup.
2.Cord cuff:
Keep long wires under control with a little scrap of fabric and a button! Sew two rectangles of cotton together, (roughly 6" by 2", depending on the amount or cord to be held) turn inside out and topstitch. Sew a button onto one end, and an elastic loop or buttonhole on the end. Wind up those long cords and secure them with the cuff to keep them out of your way! You can also create multiple buttonholes on one end to make an adjustable cuff.
3.Easy Luggage tie:
Fold over a long strip of fabric, 2"-3" in width, and stitch along the open edges, leaving a space to turn it inside out. Topstitch along the strip. Tie the strip in any which way onto your luggage… a pretty bow, looped around the handle, etc. Use a bold, bright color or print so it's easy to spot in a crowd!
4.Sewing machine cover:
Measure the distance from the front to the back of your sewing machine, going over the top. Measure the width from side to side of your machine and record the measurements. Allowing for seam allowance, sew a rectangle to these measurements. You can use one piece of fabric, or patch together as many scraps as fabric as you can! You'll want a backing fabric of the same size. Folding the rectangle in half lengthwise, pin a piece of ribbon in place on each side. (4 pieces of ribbon all together. Right sides together, sew along the edges of your rectangle, catching the ribbon in the seam. Leave a space at one end of the seam, turn right side out and topstitch. Lay the rectangle over top of your sewing machine, and tie the open edges at each side closed with the ribbon.
5.Pin cushion:
Sew together your scraps of fabric in a rectangle, circle, the shape of a heart… you decide! Sew together your fabrics right sides together, again leaving a space at one edge of the seam. Turn right sides out, and stuff the fabric with polyfill until firm. Close the gap with a slipstitch using your hand sewing needle. Decorate with ribbon or trim for added flair.
6.Pin Holder:
No sewing required! Tie a scrap of fabric around the arm of your sewing machine for a quick spot to stick pins as you sew.
You could also add a wristband to your regular pincushion with a simple strip of fabric. Secure the band to the pincushion by hand. Tie the ends together or add a square of velcro to each end as a closure.
Here are a few more great project ideas to give your unused fabric a new purpose:
Tablet cover
Slippers
Sleep Mask
Reusable Grocery Bag
Fabric Headbands
Tell us your favorite ways to use up scrap fabric!