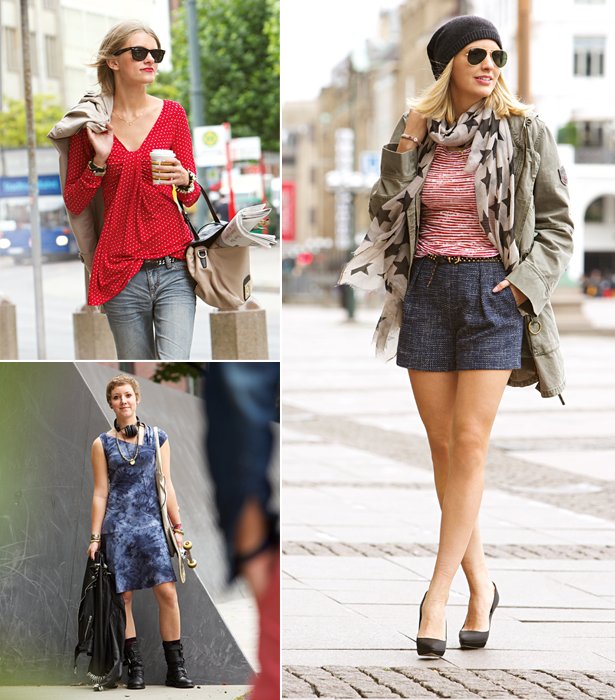 ShareThis
The latest collection from burda style Magazine's February 2013 issue brings classic American preppy style to the streets! These urban designs are casual with some style and edge. Tie-Dye fabrics are paired with denim and satin for a textile mash up. We also love that this collection is made in patriotic red, white and blue colors.
Preppies used to wear blouses but today's girl prefers Boyfriend-Style Shirts. This one looks really great worn over a T-shirt and jeans, for an effortless and stylish look! We love them paired with these high waisted Batik Trousers that are loose-fitting and perfect for everyday wear. We suggest rolling up the hem to give these trousers some edge!
This Blouson Jacket is modeled after a classic American college jacket. It's sewn from bright red satin to make it daringly glamorous!
This dress is very feminine, but has a 'chill' factor as well. This Flounce Dress with sewn-on cascade is great for work and play! Just pair with a blazer or some heels.
This T-Shirt is a classic, and it is also feminine and pretty! Looks great make in this striped fabric, and we love the gathered raglan short sleeves. She rocks the shirt with these pair of Shorts that can be dressed for day or night! The short length, hip pockets, and front pleats make these shorts both practical and stylish.
Totally comfortable and also eye-catching! This fitted Draped Shirt has a sophisticated neckline twist, which is not hard to sew. You just make a wide pleat, gather it in and then hold it in place on the inside.
Here's another batik Dress but in more of a punk style! For this dress, the emphasis is on the asymmetric neckline and the single shoulder yoke with mini-sleeve. The bell skirt is set at an angle and leaves plenty of room for skateboarding, cycling, and running! Rocking it with a leather jacket and boots gives this dress a street-chic look.
Happy Sewing, and rock on!