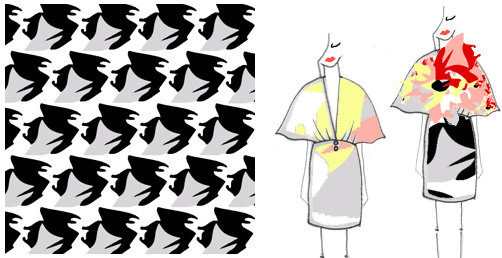 ShareThis
Last week I was in Portland, Oregon where I visited the Rose Garden. If any of you have ever been there you know what I'm talking about- meters upon meters of native & hybrid roses line bright green grassy pathways which lure you in with the most succulent sweet smelling flora you have ever set your nose upon.
These gorgeous gifts from mother nature have stuck in my mind & I am determined to incorporate them into my next collection. Though I am not sure I want to design my own typical floral print I do indeed want to use the organic beauties as inspiration. I am picturing taking a flower, drawing it, blowing it up & abstracting it so you can no longer tell it is a flower. Instead, large strokes of color sweep across the front of a dress in an a-symmetrical manner.
I am also working on my own hound tooth inspired print, though in this case I have drawn a little bird-like creature I'd like to repeat over and over again as a print to emulate a rich hounds tooth (as pictured above left).