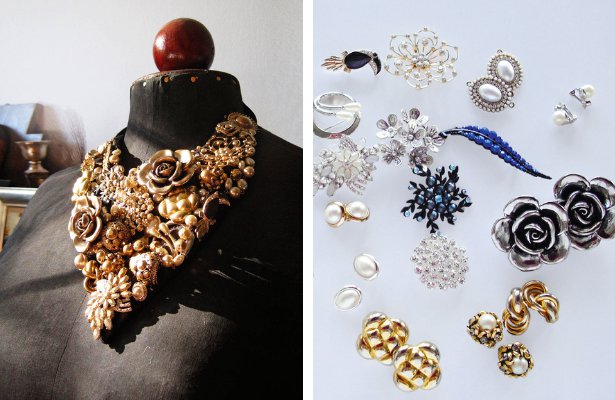 ShareThis
Glitter, rhinestone, and gold: The term "too much" simply does not exist for this necklace, and luckily for statement necklaces are back in style! Here we put everything on it – brooches, earrings & everything in-between then spray a golden coat over it, which covers all traces of scratches and color differences.

+ Old jewelry
+ Pins
+ Fabric remnant 30 cm 30 cm
+ Black grosgrain ribbon 1 m long
+ Gold spray paint
+ Hand sewing needle
+ Thread
+ Scissors
+ Paper
+ Pen



Step 1: At the beginning the shape of the necklace is established. For this, the individual pieces of old jewelry are arranged on a piece of paper, and then with a pen draw a generous line around the jewelry and cut out. Tale a picture of the arrangements for later.
Step 2: Transfer the paper template to fabric and out twice with 1-2 cm of seam allowance. Now sew on the individual pieces of jewelry by hand on one of the pieces of fabric.



Step 3: Fold and neaten the seam allowance to the wrong side and you may have to do some clipping along the curves so it lays nice and flat. Now stitch by hand the second piece of fabric on the back to cover all the stitches. You could also use a fabric glue to attach!
Step 4: Now the antique/cohesive look arises: The necklace is sprayed with the spray paint until the individual pieces of jewelry are evenly covered with paint. Then let it dry.



Step 5: Cut the grosgrain ribbon into two equally long pieces – preferably at an angle, sew it with small hand stitches on both sides of the necklace.
FINISHED! Pair with all your favorite tops to bring your look to the neck level. Check out some of these patterns below paired with statement necklaces…



top left: Crop Top; top right: Scoop Neck Plus Size Top; bottom left: Asymmetric Plus Size Top; bottom right: Tie Front Blouse.
Happy Upcycling!