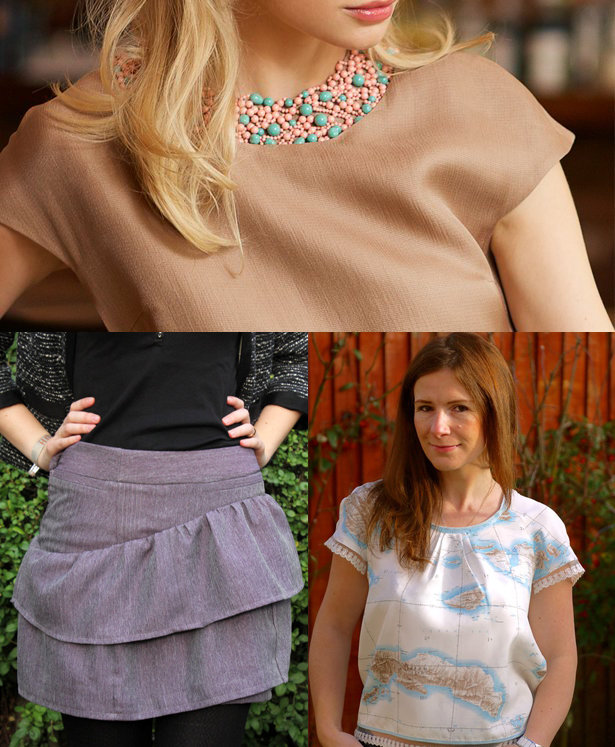 ShareThis
Recycle clothes and jewelry for a whole new look… or lots of cash from WP Diamonds!
We love creating new garments from scratch. Watching a piece take shape, from shopping online for a fresh pattern to finding the perfect fabric to making those last minute hem adjustments, is such a rewarding process. But sometimes, even the most dedicated stitchers want some instant gratification!
When you need a quick fix, upcyling thrift store garments or clothes you don't love is the way to go.
One way is to dress up the collar of an old shirt. We brought you this tutorial to add a fun pop of color in the summer. Take an old oxford, dress up the color with beads and rhinestones, and then let it peek out from under a crewneck sweater to instantly brighten up your winter look. You can always practice your beading technique with an ear warming "Headwrap"www.burdastyle.com/techniques/headwrap-diy?utm_source=burdastyle&utm_medium=blog&utm_campaign=bsawblog013014-sponsored-headwraptute before jumping into a chiffon blouse.
Looking for more inspiration? Check out this simple studded collar by member JoanneWatson1. She shows you just how easy it is to add a little hardware to a pretty blouse.
Some pieces are beyond redemption from just a few beads or sequins. Meg and Mandie love hitting thrift stores for cool patterns or cheap fixer uppers. Sometimes a dress just needs a hem taken up and some sleeves seam ripped off to become a cute party layer. We love looking through our member projects for upcyling inspiration.
Check out this Easy Skirt Refashion by thisblogisnotforyou. An unimpressive skirt became a cool tiered showpiece. Member Iqtang transformed a dated 80s party dress into the stunning Mad Tea Party Dress. Velvet can be expensive, but finding an old dress at a thrift store makes luxe party threads affordable.
And you don't have to be limited by second hand garments! Member Irina Schwab made a gorgeous Top from a Vintage Military Map with Lace and Sequin Embellihsment. This unusual textile got a whole new life as a sweet and girlie blouse.
And for pieces that aren't salvageable at all, try consigning. Giving new life to old pieces is also a great way to make some extra cash, for clothes and jewelry. Go to WP Diamonds to see how you can turn unwanted jewelry into cash. You can sell diamond rings, loose stones, engagement rings, or designer jewelry from home to free up extra cash. One old ring could turn into lots of new fabric for your spring wardrobe!