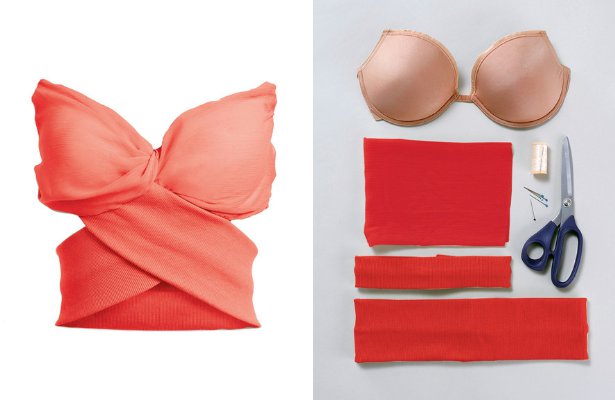 ShareThis
Perfect for hot days! Vibrant color, eye-catching lines – this top is the it-piece for summer days. Here is a bra sewn into a chic bandeau top, and the hidden bra gives the necessary support.
Images: © Jan Schmiedel

MATERIALS:
+ Bra (strapless)
+ Crepe fabric 25 cm 60 cm
+ Ribbed jersey 70 cm 22 cm
+ Ribbed jersey 10 centimeters 32 cm
+ Thread
+ Pins
+ Hand sewing needle
+ Scissors



Step 1: Finish the long edges of the crepe with a rolled hem (use rolled hemstitch). Stitch the jersey with one seam each to form a tube.
Step 2: Twist the crepe x in the middle, and drape on the cups and sew to the bra by hand. Cut the back off the bra 1 cm next to the cups…



Step 3: …and replace with the more narrow ribbed jersey tube. Stitch the wider ribbed jersey tube on a cup at an angle down around the bust, then wrap around the body and stitch the open edge to the other cup creating a crossover effect.
FINISHED! Use up little bits of jersey scraps to make a bunch of these cool bandeaus to keep cool during the summer months. Pair with some matching shorts for an adorable poolside look:



These lovely Bouclé Shorts work together with the bandeau to make this fun beachy look. All you need is a large hat, some sunglasses, and a bright pair of sandals.
Now who is ready for summer already!