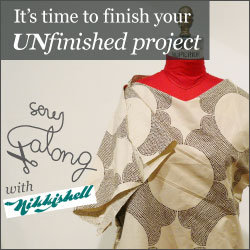 ShareThis
It's time for a new sewalong here on BurdaStyle! For those of you who took part in the Bow-Tie Sewalong you should have your creations sent into BurdaStyle before the end of April. Mine will be in the post tomorrow!
For the next month we will be digging into the piles we have scattered around or sewing rooms and the rest of the house and pulling out those unfinished projects.
Maybe your unfinished project was left behind due to a problem you encountered or a mistake you made or maybe you didn't feel the love anymore or just didn't have time to finish it. Well now is the time to get it finished! Maybe you will love it again once it's finished or maybe you would like to swap it or gift it to someone. You WILL feel good knowing you have finished it. EVERYONE has at least one unfinished project. I'm too embarrased to tell you how many i have!
Are you in?! I most definitely am and i will be starting with my Bella jeans and Ute blouse i have cut out and draped across my workbench and sewing machine. I also have a JJ blouse i started while still pregnant! (Heidi is now one year old). I accidentally cut a hole in it and promptly lost the love for it. So i'll be making an attempt to finish that too.
Leave a message in the thread telling us which projects you plan to finish. If you need help with anything ask questions, there will be someone who can help you.
At the end of May we will all feel great knowing that we finished that project and will have something new to wear without having to go out and spend more money and that's a good enough reason for me!