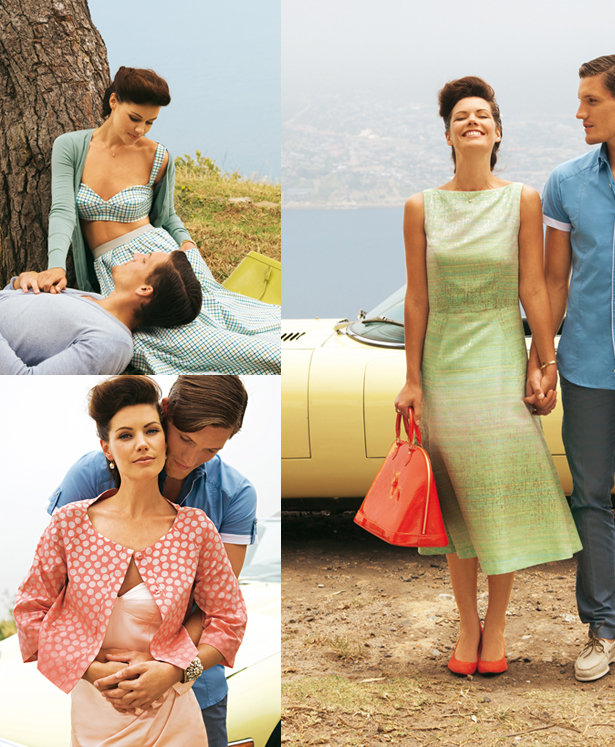 ShareThis
Pack the car, tie up your hair, and hit the road in this vintage inspired collection. Plaid day dresses, full skirts, and our favorite bustier pattern are all here! These designs are from the May 2011 issue of Burda Style magazine. All instructions for previously published patterns have been updated.
Make Marilyn proud in a classic bombshell Bustier Dress. This strapless piece hugs your figure and has an extra flounce at the hip to draw attention to your curves.
Crisp lines and a high boatneck make this A Line Dress worthy of Jackie Kennedy. It's a figure flattering style that narrows the waist and looks elegant with flats or heels.
Retro divas can't just wear jeans… spend your weekend in these high waisted ankle length Trousers instead. They have a side zip for a slim look, pleats at the front, and side pockets.
Try on a vintage style in this short sleeved Dress with Peter Pan Collar. This piece is ideal for a fun print since it has no buttons or frills. It's fitted with a classic walking slit and waist and bust darts.
Give this Shirt Dress a real retro feeling with antique buttons down the front. It's a structured silhouette with hidden pockets and classic lapels. Play the prim and proper school teacher with high heeled oxfords, or make it in a bright mod print.
This simple jacket won't distract from your outfit, but it makes a statement in a retro print. The collarless 3/4 sleeve silhouette has a retro feeling that pairs perfectly with sheath dresses.
Spend a lazy day in this pretty but functional Dress with Wide Pockets. You can run errands, garden, or start on a road trip in this 3/4 sleeve dress with extra deep pockets. It's put together but relaxed.
Dress like your favorite bombshell! This Bustier Top has a perfect retro feeling to it. Wear it with a high waisted skirt like the Long Skirt with Wide Pockets. This pattern can also be used to make a lovely bikini top. For bikini bottoms, why not use our panties pattern.
This collection is all about vintage inspired pieces you can wear every day. Play up the retro vibe with espadrilles and red lipstick, or tone it down with sandals and fresh prints.
Happy sewing!