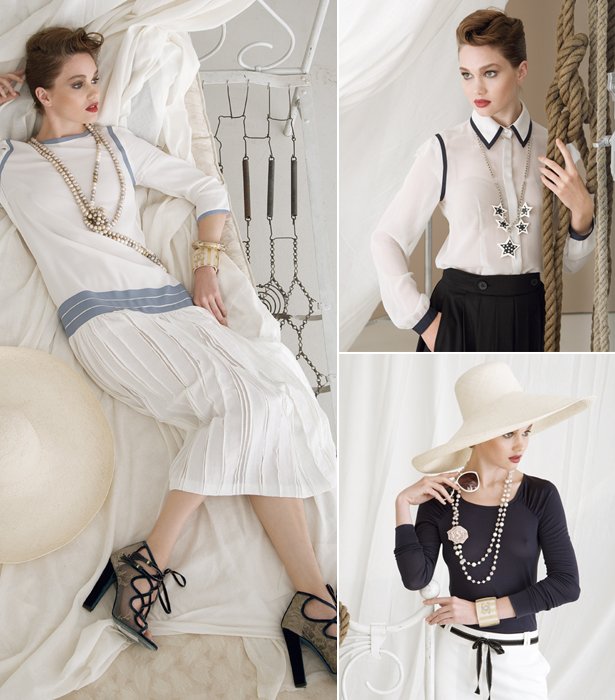 ShareThis
First from the February 2013 issue of burda style magazine, we bring you twenties style patterns, which are the epitome of sophistication. These styles are revived in black and white with lovely contrasting details. The result is pure elegance, and just as classy to wear for daytime! But a great pair of T-strap heels will sure elevate these garments to the next level for evening.
Totally relaxed and very self-assured is this lady in the Pleated Top. The pleats and stripes are already in the fabric, so it's a garment that even beginners can make. Just sew the bust darts and bind the edges and your finished!
This feminine Shirt has sewn-on bands and a charming bow. It will pair perfectly with a nice pair of pants or a skirt! What better to pair it with than this lovely Pleated Skirt. This full sized skirt is ideal for a day out! It has side pleats, a deep center inverted pleat, and a unique waistband.
You can't have a twenties collection without a Flapper Dress! A low waist and loose drape produce that typical androgynous look, which created a whole new female image in the 1920s. Ribbons accentuate the silhouette, while the wide neckline lets you just slip the dress on easy.
This Raglan Shirt is casually chic like Coco Chanel! It is made from pure, thin silk jersey. The design is essentially simple, but striking with its gathered raglan sleeves. Complete the classy look with opulent accessories like a large hat and pearls.
This little Short Jacket is beautifully decorated with contrasting edges. It is kept closed with hidden snap fasteners for a clean look. We love it worn with these Marlene Trousers that have a high waistband and striking front pleats.
Straight lines, but also playful and chic is the essence of this Chiffon Blouse! Details like the pointed collar, the covered buttons and the special little wing sleeves give the classic blouse a unique, carefree look.
Happy Sewing!