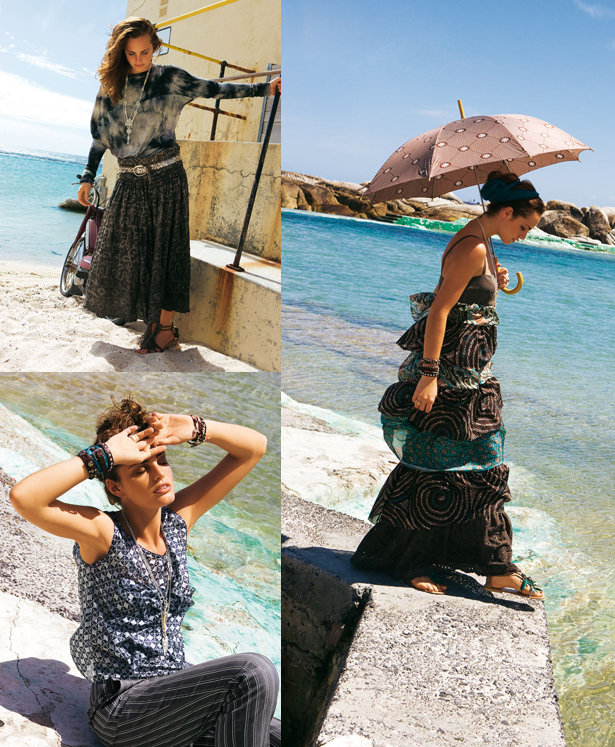 ShareThis
Transform your sewing studio into a desert oasis with these bohemian summer designs, like floaty batwing tops and skirts. These patterns are from the April 2011 issue of Burda Style magazine.
This Long Dress with Side Slits looks casual until you notice the thigh high slits! The blousy cut and slits mix sexy and casual for a fun summer dress. Throw it over a bikini, and then wear it out to dinner with embellished sandals.
Flared Trousers have a little breathing room for summer. This low rise cut is the original hippie silhouette, perfect for those long road trips or music festivals.
This casual jacket can add coverage to strappy tanks and dresses for summer. Striped fabric and invisible snap closures make it more casual than your typical blazer.
The Skirt with Draped Waistband makes any day feel a little more relaxed. Get a hippie, bohemian look with this breezy batwing Long Sleeved shirt in an ikat or tie dye fabric. It makes a comfy weekend outfit with leggings or jeans.
The double breasted Ikat Blazer cut gets a little modern update with a fitted shape and snap closure. Make it ready for summer in an ikat print.
These Pants with Contrast Waistband sit low on the hips. Call attention to the low slung silhouette with a contrast fabric at the waist and pocket details. These pants are so summery in a stripe.
Lots of pockets give this Button Down Dress plenty of detail. It's fitted at the waist with a dainty little collar. Make it a print for a feminine look, or in a utilitarian canvas or denim for a sporty touch.
You'll be as pretty as a layer cake in this frilly, floaty Layered Maxi Dress. Tiered ruffles catch the summer breeze for a romantic look. Mix and match colors and prints to show off the layered effect.
You won't have many remnants left over from this top! Crosswise fabric strips add interest to the front of this little tank top. It's a cool, textural effect with sheer fabrics, especially if you leave the edges unfinished.
Pick an eye-catching striped or patterned fabric, and no one will know how easy this Striped Dress was to make! You can choose where to wear the elastic waist, and hidden pockets are handy for outdoor events.
Casual trousers get a little something extra from crisp pleats and a ribbon waistband. The cut is wonderfully comfortable in a fabric with some stretch. Make them in a fun striped print for summer!
Batwing sleeves in stretch jersey are so comfy and easy to wear with a casual outfit. Spice up this beginner friendly Dolman Top with a cool print. The drapey top looks good with skinny pants or leggings.
Whether you're headed off to a southwestern vacation or just an afternoon in the backyard, this collection is sure to put you in the mood for spending some time in the sun. Even better, some of these designs are easy makes to get you outside even faster!
Happy sewing!