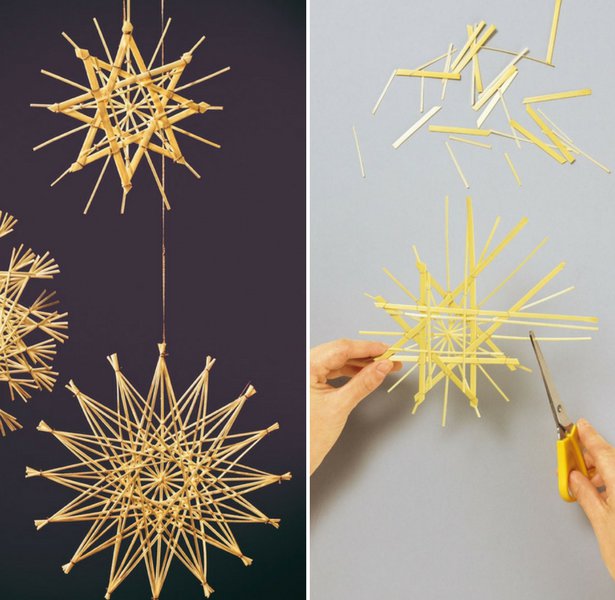 ShareThis
One of the classic Christmas tree ornaments – stars. You can find them at every Christmas market, but why not make your own? You can even glam them up with glitter and try hanging on your walls as opposed to your tree.
Materials:
+ Gold-colored thread/yarn
+ Rubber band
+ Star template (Rayner)
+ Straw splitter
+ Scissors
+ Straw
+ Bowl of water
+ Iron

Pull the straw through the straw splitter to get fine, even stripes.



Soak the split straws in water for at least ten minutes and then iron with the iron, at a low setting (2 or 3).



Lay the straw strips evenly between the slots of the straw star shape (Rayher). Depending on the selected sequence, different patterns can be obtained.



Clamp a household rubber band as a ring around the teeth of the laying mold and push it down, so that the straw strips are pressed together stably.



Now the laying form is turned over. Bind the ends of the straw strips together with the golden yarn at the crossing points. Then remove the rubber band and the laying form.



When all ends are tied together, the stars can be trimmed with scissors (of course behind the yarn) – the straw star is done!



Finished! Attach a loop of golden yarn to one corner. Now the stars are ready to decorate the Christmas tree.