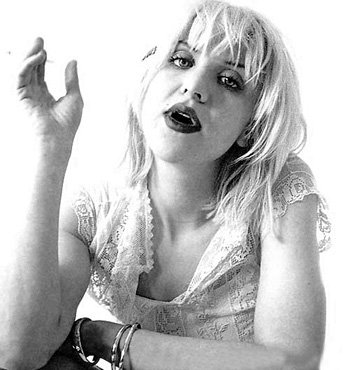 ShareThis
This week BurdaStyle goes to the dark side.
LOVE
LABOURS
LOST
Once upon a time, before MySpace, people I knew started sending me these curious email messages, which I routinely ignored. The subject headings read: "So-and-so wants to be your friend!" Invariably, the people from whom I received these messages already were my friends, and so I assumed I'd been caught up in a weirdly flirtatious go-round of spam. Then I'd run into one of my friends at a party, or I'd call some other friend to make a plan, and these friends of mine would ask: "How come you won't be my friend?" The whole thing began to take on the aspect of a "Twilight Zone" episode. Eventually, I figured out what was up: Friendster. This was my introduction to the brave new world of social networking.
I didn't see the point of Friendster, at least not at first. My come-to-Jesus moment happened a few months later, when I realized that my recently-ex boyfriend had posted a profile that did not list his dating status as single. That's a story for another time. This story is about my Friendster profile, the one I wrote up in a fit of pique, annoyed that I had to go through the seemingly pointless motions of putting myself into some kind of digital hipster yearbook. Occupation? Keeping myself occupied. Favorite books? Several. Favorite movies? Several again, but as long as we're on the subject, I take issue with the descriptive "favorite." And so on. Then I came to the essay portion of the profile, "About Me," and below that, "Who I Want to Meet." It was late, I was waiting for my photo to upload, which was taking forever, and both these questions seemed at once vast and defeating. How does a person account for herself so briefly; how does she enumerate the qualities she seeks in others? Coincidentally, I was listening to Hole. The track "Doll Parts" cued itself, my photo finished uploading, and the clock blinked a late minute past three at me. About me: I fake it so real I am beyond fake. Who I want to meet: Someday, you will ache like I ache. I folded up my laptop and went to bed.
As soon as a week later, Friendster message alerts were piling up in my inbox. I'm still not sure whether the legions of dubious men who cold-contacted me realized that the "About Me" line was a lyric from "Doll Parts," and ditto the phrase I stole for "Who I Want to Meet." No one ever brought it up. What I can say for certain was that they took the sentiments seriously. Every single guy seemed to be looking for the kind of girl who cuts herself. Introspective, gloomy, in love with her own bruised sensitivity. There's probably a tablespoon or two of that in me, but I am definitely not that girl. And neither is Courtney Love. I mean, if you actually listen to 'Doll Parts," the line "you will ache like I ache" isn't meant as sympathy, it's meant as a threat. Someday, you will ache like I ache. I will make you ache. You are messing with my head, and I am going to hurt you. I will kick your ass up and down this house. I love Courtney for that line. It's the moment in the song where she makes clear, once and for all, that she's not interested in playing victim.
Sigh. If only everything about Courtney rang as true and fierce as that one line. She just can't outrun hell, Courtney, she got some credit in the straight world and obliterated everything she kissed, and thus the onetime riot grrl has become this other kind of icon, one who basks in the glow of tragedy. Think, Marilyn Monroe; think Judy Garland. Except, obviously, Courtney Love is not dead. Flip through Hedi Slimane's new book of photographs of Courtney, Portrait of a Performer, and you can see the diamond-hard glint of defiant life peeking out from behind her eyes. It's the only real thing left of her, I think – everything else has been Botoxed, collagen-injected, methadoned, court-ordered, lipo-sucked and red carpeted into submission. This is a shame for many reasons, not the least of which that Courtney is at her best when she's allowed to be her messy worst. "Doll Parts," for example, possibly the greatest song ever written about trying to keep it together while you're falling apart. Or "Plump," the only anthem I can think of that's about hating pregnancy. And even if Kurt wrote half the album, Live Through This remains a testament to Courtney's power to make genius from horror, a concept record about going down in style, fists pumped, middle fingers up and proud and facing back at the ones who fucked you over. Someday, you will ache like I ache. Any Friendster who doesn't get that line doesn't get to be my friend.