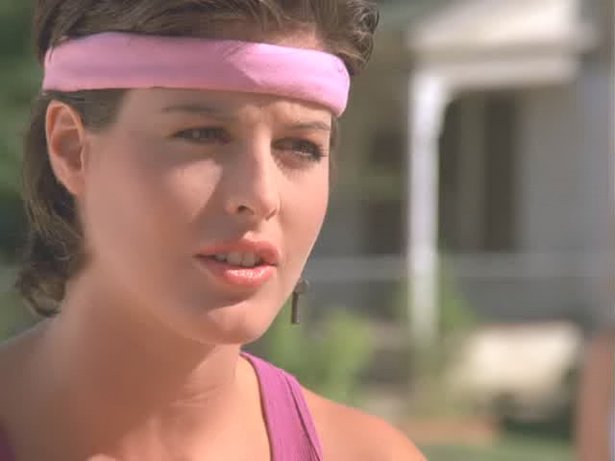 ShareThis
This week, BurdaStyle gets its groove on.

ICON

KELLY

FROM

BREAKIN'

Let me be clear on this, right up front: Breakin' is an awful movie. The script is feloniously bad: There are plot holes you could drive an aircraft carrier through, the dialogue is like nails on a chalkboard, and despite some hamfisted attempts at sketching depths, the characters are so cartoonish they make Bugs Bunny seem nuanced in comparison. The directing is worse; the acting, worst of all. But the dancing! Watching Breakin' again recently, I found myself transported back to a time when hip-hop was new, when graffiti art and beatboxing and scratching DJs and sneaker freakism all felt revolutionary and exciting, dispatch from the cultural underground. How far we've come.

For those of you who haven't seen Breakin', our proxy for the film's journey into the demimonde is Kelly, played by Lucinda Dickey. Kelly is a sweet, lily-white aspiring dancer, and when we meet her, she's working up a sweat in a hardcore modern dance class, led by the nefarious mentor dude who soon puts the moves on her. For some reason – car trouble or something – her friend from class, a lispy black guy, winds up taking her down to Venice Beach, where she makes the acquaintance of super-breakers Turbo and Ozone. Ozone is smitten with Kelly; Kelly is smitten with the pop & lock dance moves going down on the boardwalk. Having served his dramatic purpose, the lispy black friend disappears from the movie, and here on out, Turbo and Ozone play Beatrice to Kelly's Dante, guiding her into the dark heart of the hip-hop party scene. Well, sort of: They do go to a club, because Turbo and Ozone got served, and Ice-T is DJing, incredibly, but the place is, shall we say, suspiciously well-lit for an off-the-grid happening. Ozone and Turbo lose this round, because their breakdancing rivals have brought along a girl with sweet moves; thus Kelly, alienated from her careerist dancer peers back at the studio, winds up joining Turbo and Ozone's gang. Needless to say, they go on to glory, and everyone gets what's coming to them, except for lispy black friend, who has turned to vapor.

This is what I love about Breakin': I love the leotards, I love the cheesy F/X, I love the fact that Jean-Claude Van Damme has two unrelated cameos, and most of all, I love that this movie is one of those that unironically promotes the idea that – hey! – dancing isn't about "Swan Lake" or Merce Cunningham or the Juilliard School, it's about passion, the kind of passion that drives a disabled kid to get down like a champ on the Venice boardwalk. Secondarily, the film is also about winning: Breakin' is structured around a series of dance-offs, which winds up undermining the whole "dancing = joy" theme to the extent that it's not merely good and pure-heartedness that carries the day, but practice, innovation and drive. As such, the movie is an evergreen slap-in-the-face to anyone who thinks that there are shortcuts to success. Hip-hop and a capitalism go hand and hand, and that is why Breakin' is the perfect time-capsule film for the Reagan '80s. Plus, you know, the clothes.