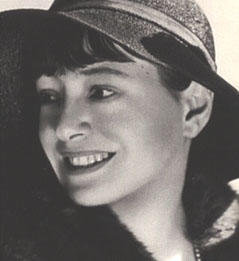 ShareThis
This week, BurdaStyle gets literate.
ICON
DOROTHY
PARKER
There are scenes, and then there are scenes. What CBGBs was to punk rock, the Algonquin Round Table symbolizes to modern American journalism. Night after night, The New Yorker's original leading lights gathered there, trading boozy bon mots and poison barbs across the table as they plotted the agenda for urbane conversation in the Prohibition era. There's not a writer I know who hasn't at some point wished to have been alive to make that party. Dorothy Parker was the sharpest wit of the bunch, an acidic advance of the Carrie Bradshaw type, perpetually single, perpetually out, perpetually enmeshed in dubious affairs and perpetually turned-out in Poiret-age get-ups that look oh-so of-the-moment right now.
Of course, for Parker it wasn't all Manolo Blahniks and cosmo brunches. Forever in love with her married colleague and best friend, Robert Benchley, her razored, verses are painfully sad, the work of a woman trying her damnedest to jibe away the heartache. She was mean, she was a drunk, she threatened suicide all the time and she (annoyingly, I imagine) carried her little pooch around with her everywhere, kind of like that other famous Dorothy. But if Parker was a bitter pill, she was also a keen observer of life's mundane absurdities, and of her own petulance, and above all, she was funny. A single epigram of hers traverses about as much emotional territory as all six seasons of "Sex And The City" put together. There's no point in paraphrasing when the work is at hand; here's to Dorothy, the Wizard of blasé.
Experience
Some men break your heart in two,
Some men fawn and flatter,
Some men never look at you;
And that clears up the matter.
- Dorothy Parker