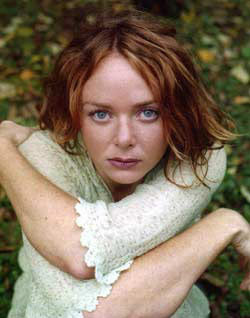 ShareThis
This week, BurdaStyle takes on life, love and mankind.
ICON
STELLA
MCCARTNEY
A guy I knew in London used to be in this not-so- great band with his old flatmate from art school. Said flatmate at some point dated a cute but grungy girl from the fashion department, Stella, who described herself as "from up north" and who tooled around the city in the world's crappiest hatchback. After seeing the flatmate for a few months, Stella invites him to her parents' place for the weekend. They ride out to the country, and arrive at a much larger house than the flatmate had expected. The parents are out on the grounds when they get there, so Stella and the flatmate perch themselves in a den of some kind, and wait. There are photos on the wall. Photos of Paul and Linda McCartney.
Flatmate's head starts spinning. Stella says something to him, and he can't tell what she said, because everything sounds distant and goopy, and when he tries to reply, no words come out. Footsteps in the hall. Stella runs off to greet her mother as Sir Paul enters the den with an armful of firewood. "So," he asks, all dad-like and small talk friendly, "I hear you're in a band?" Flatmate, stil unable to speak, nods his head. Sir Paul nods back. They nod. Sir Paul throws the last logs on the stack. "Yeah," he says, "I was in a band once, too."
I love Stella McCartney for this story. Here she is, this girl who could have spent her youth pulling rank, and instead, she puts her head down, studies patternmaking, drives a beater, and conveniently forgets to mention to her would-be rock star boyfriend that her dad is a Beatle. Years later, after coming into her own success as a designer, I'd see her around my neighborhood in London, and even then she wore her fame lightly, refusing to jump the line at a packed restaurant, for example. Stella's big business now; I imagine that she's come to accept some of the perks of fame as her due, and I don't begrudge her the perks. I like her clothes, I wear her perfume, and I respect the stand she's taken on animal rights: Stella's strategy appears to be an algebraic one, design on principle, and if the design's cool, the principle gets to be cool, too. Let the customer come to you. I own a pair of her vegan sandals.
Because I respect Stella, however, I wish she'd push a little harder on her principles. Her new skincare line, CARE, is certified organic and cruelty-free, good stuff, but it would be nice if the pro-nature message also meant that the packaging was biodegradable, say. I have the same quibble with her sportswear for Adidas, and the one-off collection she designed for H&M: Mass market is where designers have the most opportunity to influence, well, the masses, and I think Stella knows that the throwaway clothes at H&M aren't doing anything good for the planet, and that only a company with the resources of Adidas can lead the way on sustainable apparel. Maybe she's working these ideas through the corporate inside, or maybe she's just picking her battles. But Stella McCartney is the best proof we have that it's possible to be streetwise and conscious, a sexy do-gooder, and she has the rare chance to exploit herself for the world's good – on the back of the fame she's earned, and the fame she's inherited, and on behalf of the values her parents instilled in her. Just once, I wish she'd pull rank.