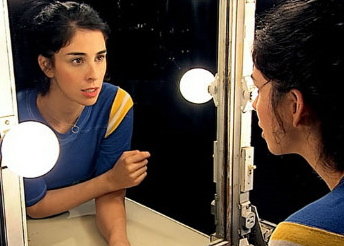 ShareThis
This week, BurdaStyle goes L.A. native.
ICON
SARAH
SILVERMAN
Bring up the subject of L.A. beauty, and the same few keywords come up again and again: Plastic, blond, tits, Botox, "Baywatch," fake. And indeed, there's plenty of that Porno Barbie look flying around Los Angeles; the stereotype exists for a reason. My first few trips to L.A., however, it wasn't the armies of Pam Anderson-lookalikes that brought me up short, inasmuch as I'd prepared myself for them. No, it was the more generalized self-consciousness of L.A. women that got to me: Everywhere I went, I had the sensation that they were looking over their shoulders at themselves, less to make sure they could see what the spectators saw than to make sure there were spectators, period. Los Angeles is a town where even the people who aren't actors are, in a way, actors.
Which is why I love Sarah Silverman. For me, she represents this other, rebellious kind of L.A. woman, one who cops to the narcissism of the place and then flips the bird right at it. You see these women around town, too; you just have to look harder for them. Silverman, who grew up back east and kicked off her career in New York, marries a whaddya you looking at? sensibility to her Angeleno Look at me! attitude, and then subverts the whole thing by wearing not much to look at, at all. Jeans and tees, the usual dressed-down California uniform, only more tomboyish, and the flip side, again, of Silverman's anti-sexy style is that she wears her whatever clothes with a kittenish sense of her own cuteness. Like almost everything and everyone in Los Angeles, Silverman is both more and less laid back than she appears, and I could keep flipping these coins back and forth, but the central fact is that I like Silverman's meta-narcissism, narcissism looking back at itself, not to see what's there, but to see who's watching.