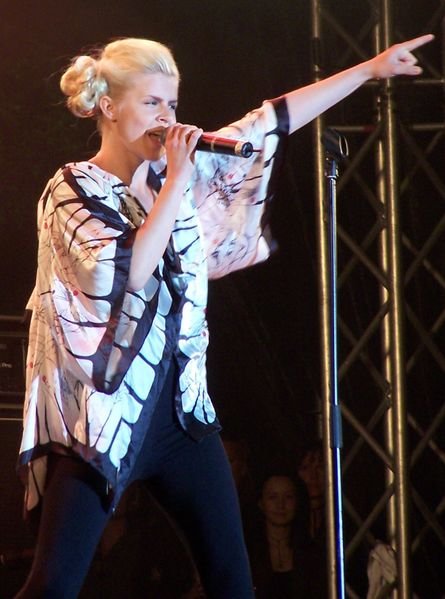 ShareThis
This week BurdaStyle gets Stockholm syndrome.

KONICHIWA

,

ROBYN

Sweden has long been a major exporter of music. Until recently, however, it would be fair to say that most of the music Sweden exported wasn't very, well, very good. Glossy and catchy, sure, but the specialty of the Swedish music houses was a peculiarly empty kind of pop, made by artists that have mostly been forgotten: Roxette, Ace of Base, Robyn. Remember Robyn? She had that R&B-lite hit back in '97, "Show Me Love?" Show me love, show me life; baby show me what it's all about… Ring any bells? The chorus was sticky as hell at the time but once it came unstuck, the song was gone. And so was Robyn.

Except. A huge star in Sweden, Robyn has, in the past few years, reinvented herself as that nation's answer to Gwen Stefani. A Gwen Stefani who starts her own record label, works with avant-garde producers, raps like a mo-fo and dresses up like a telephone if it gets the video point across. A Gwen Stefani with nerve, in other words. Her new EP, Konichiwa Bitches, just made it to the States and comes pedigreed with credits from members of Stockholm's best and weirdest band The Knife (more on them later) and Teddybears, the Swedish group who brought you the unavoidable "bomb-ditty-bomb-a-dang-a-dang-ditty" dancehall pop song scoring ads for Heineken Beer and "Grey's Anatomy." More importantly, however, the songs on Konichiwa Bitches kick butt. The title track is eyebrow-raisingly lewd and ass-shakingly groovy, Robyn's simultaneous come on and a kiss-off to all the boys who want her. And who wouldn't? The teen-pop princess isn't ashamed to flirt. But now she's in charge of showing love, and showing life, and showing what it's all about. And she's not about to let anyone forget it.