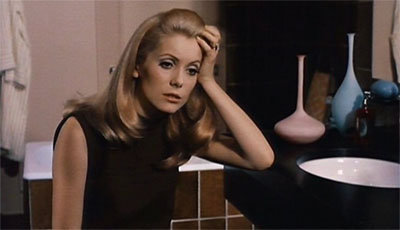 ShareThis
This week, BurdaStyle celebrates Parisian perversity.
ICON BELLE DE JOUR
The summer before my junior year of college, I moved to New York City with my then-ex-boyfriend. I had come to the city to be a lousy waitress and for an internship that never actually panned out; among the other things that didn't pan out that summer were our break-up, and then eventually our relationship. He was taking classes at NYU, which gave him access to NYU housing, but in an act of what I now recognize as generosity, maybe even love, he threw his lot in with me and together we sublet the world's tiniest studio in Alphabet City. It was a sixth floor walk-up; coming home one night, I saw someone shoot up for the first time, right there on our stoop. I loved it. My then-ex hated it. Further details: I vaguely recall a schedule of days when he got the bed, and I got the sofa, and vice versabut soon his plan worked and I relented and we were a couple again, sharing the twin mattress.
I think of this summer as a cautionary tale: It is easy, I realized, to be a bad wife. All it takes is a certain amount of generalized unhappiness, such as, say, a hatred of waitressing combined with large, unfulfilled, ambition, plus a cramped apartment with no air conditioning, shared with a man made of luck. We went to a million movies that summer, late ones when I pulled a double and matinees on our shared days off; we went to escape the heat and each other. I can't even remember what we saw. The only movie that sticks in my head is Belle de Jour, playing uptown at the Paris.
A friend of his joined us. He was from NYU, or possibly they'd studied together in France; either way, Nick was a different species of 21 year-old from my rosy-cheeked Yankee boy. Schooled in Switzerland and raised all over Europe, he was the first person I'd ever met to drop a phrase about "summering" somewhere. His dark, curly hair needed cutting, and right off the bat he had a way of holding my gaze that was unfamiliar. I could sense, without needing to look, my then-boyfriend turning rage-purple under the dim movie house light.
Then, Belle de Jour. Director Luis Bunuel takes Catherine Deneuve, so pretty you almost have to look away, and gives her an Yves Saint Laurent wardrobe and a stunning apartment with views of all Paris and a husband even more perfect than she is, and has her live out her bored, masochistic fantasies by becoming a prostitute. "Belle de jour," because she only whores in the daytime, while her husband is at work. Eventually, she finds herself involved with a clientan exotic type with dark, curly hair in need of a cutand this being a surrealist film, it's not entirely clear whether this affair leads to the near-death of her husband, or if the whole thing was a daydream she spun while tending to her paralyzed spouse, or what.
"Do you want me to hit you?" my then-boyfriend moaned later, back at the small, hot apartment. "It's us, don't you see it? You're just like her, you want me dead."
Because this seemed crazy, I told him he was crazy. I told him what I saw in the movie: Unbelievably chic shift dresses. A-line coats. Hair snapped back by a single barrette. Flat knee-high boots, pancake eyeliner and a pale lip. I saw more than that, of course, but I hadn't read in Belle de Jour the story of my own discontent, and even though he had, I refused to recognize it. Instead, we had the conversation we'd had six months prior, before he left for France. Did he want to break up with me? No. Maybe he should want to break up with me… No. Maybe it would be good for us to break up, just for a while, so he could see clearly how unhappy I made him; that much was clear to me. NO. I worked him around like that, until it was over. Technically, he broke up with me. I gave him the bed for the rest of the summer, and went back to school in the fall with a closetful of A-line shifts and my freedom.