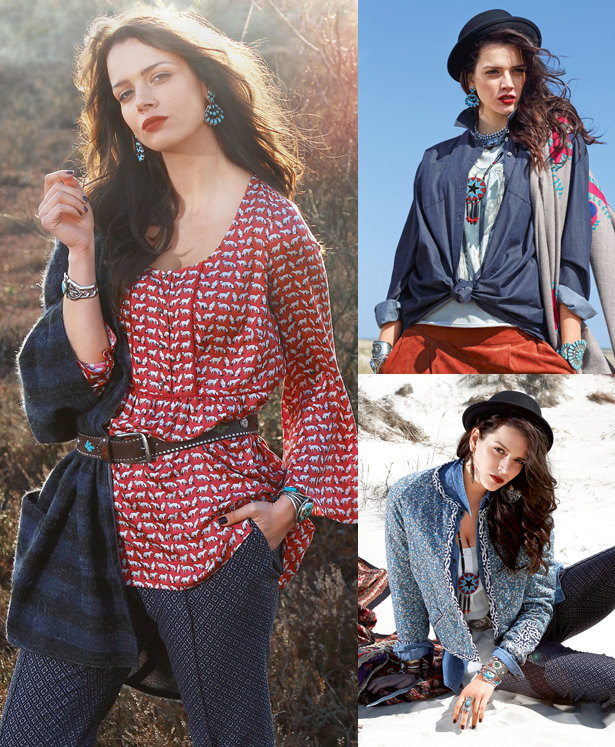 ShareThis
We love soft and feminine dresses, but sometimes you need pieces for the great outdoors. These 11 designs from the September 2013 issue of Burda Style magazine have a rugged touch that looks good with jeans, henleys, and cowboy boots. Just right for fall!
Sometimes the simplest pieces get the most wear. The Denim Button-Up is the ultimate layering piece. Throw this button-up shirt over a vintage dress, tie it up over high-waisted shorts, or just wear it with jeans for a casual look. You'll want one a light and dark wash!
Hold everything in the Tasseled Shoulder Bag. The hobo shape can go everywhere, from antique shopping to a weekend stroll through the woods. Have fun customizing the draft-it-yourself pattern with cool hardware and tassels.
You'll be ready for adventure in the Folk Blouse and Vest. This pretty peasant blouse softens up jeans and boots with an empire waist, button placket, and gathered sleeves. Give the relaxed and feminine look a gypsy vibe with an embellished vest. This vest is perfect for showing off odds and ends of vintage trim and fancy ribbon.
The Peasant Blouse has lots of detail on its own. The button placket and empire waist are set off by bright piping, and you could also add trim to the sleeves. Pair it with boyfriend jeans and chunky sandals for a casual fall look. Let your hair down and grab a tambourine while you're at it!
Roast marshmallows by the bonfire in the Poncho with Pockets. This draft-it-yourself design makes a rustic cover up for your next mountain hike or camping trip. This poncho is easy to sew and wear, and gives a little hippie style to your look.
Printed pants are easy to wear when they have a simple silhouette like the Pleated Pants. These timeless trousers with a button waistband work well with menswear looks like button up shirts and flat booties.
The Empire Waist Dress with Pockets is a flattering dress for everyday. Pair the easy silhouette and folky button placket with cowboy boots for a casual day look, or take up the hem for a babydoll party dress. Choose fabric that frays easily to finish the neckline detail.
Get gypsy style by mixing and matching prints for the lining and trim of this soft Jacket. The collarless style pairs well with embellished shirts, so you can put together a whole bohemian look. Add some hardware for a Sergeant Pepper feel!
Luxe fabric like angora jersey and a ruched V neckline take a comfy long sleeved tee to the next level. Layer the Ruched Top under a cardigan and pair it with a vintage necklace.
Stay super warm in the Shearling Coat This paneled winter warmer is a fun make and fun to wear. The oversized shape has tomboy charm that stands up to bad weather, and shearling will keep you toasty warm no matter the temperature. Wear this with casual outfits like jeans, boots, and chunky knit sweaters.
You don't have to be on a desert camping trip or a gypsy caravan to have fun with these patterns. Folk-inspired pieces in saturated colors look charming paired with your favorite distressed jeans and Converse or boots. Throw the Shearling Coat or Collarless Jacket over a white tee and jeans, or layer a few pieces from the collection for full bohemian flair.
Where is your favorite place to find trim? The flea market or fabric store?
Happy sewing!