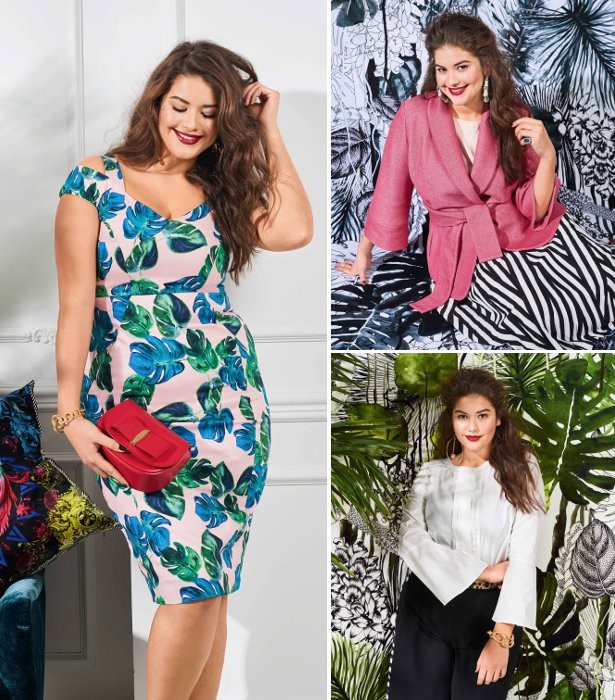 ShareThis
The styles are an invitation for an evening out…perhaps even a cocktail outside when it's warm and sunny? These styles with flattering flounces, tropical prints and attractive silhouettes show off a the figure and will have you ready for summer days.
So sexy! Wide straps at the neckline aren't only for the faux layer effect, as they also effectively keep the deep and form-fitting plunge of the dress in front comfortably in place. They are also perfectly placed to cover lingerie straps. Style tip: Pair it with a cardigan and a narrow belt for an evening out to achieve 'la dolce vita' impact.
A shawl collar, piping and a tying belt are elements of this evening blazer that have the touch of a classic pajama jacket. Fun details like the sleeve cuffs and seam pockets are special touches. Together with the tailored fit, it is a great choice for an evening out.
Rather than cuffs, this blouse has bell shaped flounces to finish the sleeve ends and the pleats in front have the look of an elongated plastron.
For cooler days, this blazer with slightly flared sleeves, a tying belt and seam pockets sewn with a sweater fabric including threads of glittery bast is a perfect piece. Très élégant!
A button-up look that is stunningly summer-like. The style draws attention through its draped sleeve flounces, side slits and stitched pleats along the front as well as at the dropped shoulder yoke seams. The dress is office
appropriate with a pair of narrow trousers – or if simply lengthened 20 cm (apx. 8 in.) at the lower hem.
The skirt also includes some playful details of a pajama look. The wide bands are outlined with a creme colored piping. This style – whether worn on its own or as part of a two-piece suit – is best worn with pumps or kitten heels to avoid looking too casual …
A flash of sexy shoulders peek through this vibrant sheath dress. Cleverly tailored panels follow the curves beautifully and the long walking slit in the middle back gives optimum freedom to move.
The process of sewing with this fabric already gets one in a tropical mood and the style is one that doesn't disappoint even in the heat. The breezy and pretty cascade of the boho style dress swings casually with light single layer flounces along the neckline and sleeves, as well as a wide ruffle at the hem.
Download and sew all these plus size sewing patterns with this discounted pattern collection bundle .