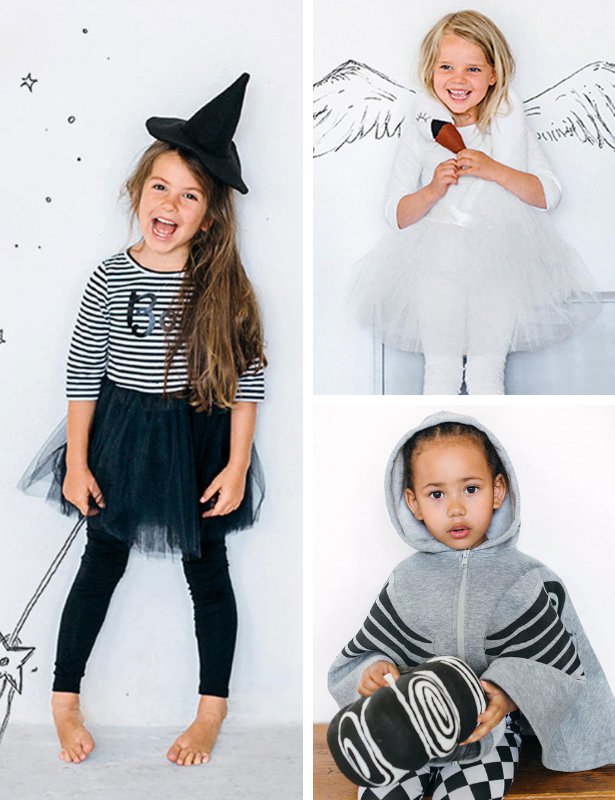 ShareThis
When the spooky festivities are finished, these Halloween costumes fit right back into everyday fashion! This collection is from the 11/2018 issue of BurdaStyle magazine and include comfy and easy to make costumes that your littles ones will want to wear again and again.

Left: The secret this little robber wants to tell? Shhhh – this striped jumpsuit with the button front placket is totally comfortable and works after Halloween to wear around the house, too!
Right: So spooky! The skeleton costume is made with an iron-on bone design. For the crown, we used black faux floral petals attached with hot glue onto a headband. If you don't find black petals, spray paint bright ones black.



A scary "Boo" iron-on decal for the striped shirt and a witch costume gets completed with the sewn on tulle skirt – keep it or remove it after the festivities.
Every witch needs a hat, of course! This free one is shaped from felt and rounds the outfit perfectly.



Be ready to take flight with this bird of prey cape. The decorative markings are made with spray paint and templates onto the cape. Naturally a warm choice for keeping cosy warm through the year.



Transform the little one into a beautiful swan with this snow-white dress with the breezy tulle skirt. Swan pictured tutorial also included in the instructions!



This bat jacket with mini ears on the hood is so cool! Striped hem bands and an asymmetric zipper underline the effect. The wing panels under the arms are removable thanks to the zippered seams.



These jogging trousers aren't only on-point for the casual color-block style – as the frightful glance piercing from the knee, is simply whimsical.