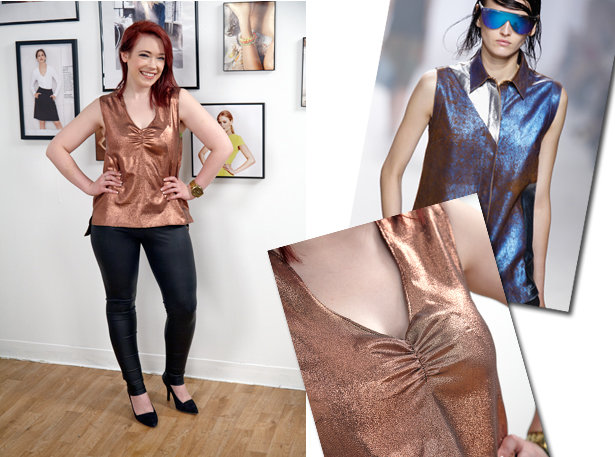 ShareThis
With all the fashion weeks going on as well as the Olympics, no wonder a metallic trend has popped up! As opposed to the Olympics, both silver or gold will rank you top in style. Metallic fabrics are really in this season, and I love the way they make the simplest of patterns look amazing. Check out some runway metallic looks, as well as a peek into the metallic top I made, and lastly my pics for our top metallic patterns on BurdaStyle.com.

top left; Lanvin, top right; Altuzarra, bottom left; Proenza Schouler, bottom right; 3.1 Phillip Lim
All these runway looks were showcased at the Spring 2014 shows last year, and now is the time to start making these styles for yourself! I am a huge fan of colored metallics, and I also think neutral metallics (like gold and silver) should be a must-have in any sewing fashionista's wardrobe.
My personal favorite from above has to be 3.1 Phillip Lim's distressed blue metallic vest. From the looks of it, it seems like the metallic top coating was applied to denim. I would love to sew a pair of jeans in that fabric!
For the top that I made I chose a very simple tank pattern. I used our Layered Tank Top, but only cut out the outer layer. I also drafted the back tank to be longer than the front, I love the look of a multi-hemmed top where you can see the difference at the side slit. The pattern neckline was a little to high on my neck so I lowered it approx. 6 inches and then sewed in an elastic-gathered pinch on the wrong side of the fabric.
I have pulled together some great BurdaStyle patterns made in metallic fabrics. The Jumpsuit has been on my to make list for years now (and still on there), and I really like the structure of the blue metallic skirt which I want to make in a metallic green (would that be to mermaid?). I have made this shirt before, and I love the loose silhouette on me but I would like to make another in a metallic silver like the shirt above. Lastly we have this brushed gold Metallic Dress. I love how the shiny fabric catches the light in all the pleat folds, the design is so suited to a metallic fabric.
Here I am in my new 'rose gold' metallic tank. The stiff metallic crepe that I used really held the structure of the tank as shown on the BurdaStyle pattern page here garment. For the edges I simply serged the edges, pressed my allowances and topstitched in place. I did the same on my hem and top stitched around my side seam slit as well. This is a great going out tank, and I like the fact that I looks great on its own as well as under a blazer or cardigan. Super excited to wear this tank come the warmer spring weather!
Happy Sewing!
Meg