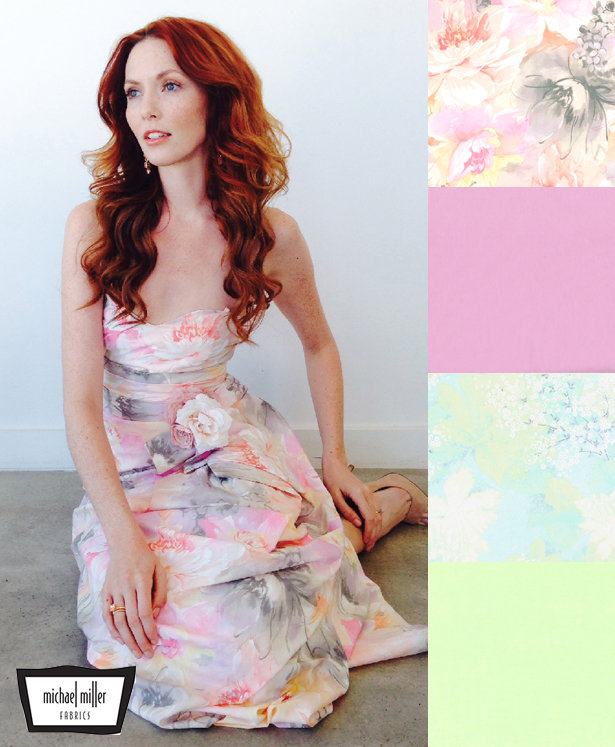 ShareThis
We're pulling inspiration from the florals and pastels in the new Spring Fling and Petal Pinwheels collections. Don't miss the patterns, fabrics, and styling tips to make sultry summer outfits.
The last summer days and long nights beg for feminine looks. The new Spring Fling collection from Michael Miller is dreamy and romantic. Take a look at a week of outfits in our favorite florals, with a few pops of pastel and polka dots thrown in.
The Short Shorts-
shortshorts pattern is a blank canvas for summer trends. The side zip ensures a smooth front, perfect for showcasing texture and color. This is an essential pattern you can make it florals, denim, anything!

Short Shorts-
shortshorts in At the Conservatory and black and white Dumb Dot
Printed bottoms are always more fun and unexpected than a top. Picture these shorts in a delicate floral like At the Conservatory . This gorgeous print is a little fancy, so you can style your shorts for nicer events like catered picnics or mimosa brunch.
Simple black and white polka dots have a vintage look, adorable with a pair of espadrille wedges and a bright red tee. We like the boxy Cropped Chambray Blouse-
chambrayblouse in peridot green cotton or tomato red.
You could also pair your shorts with the Princess Seam Boatneck Top-
princessseamtop in primrose Cotton Couture. This cool pink would make cute contrast with black polka dots or coordinate with almost any floral.

Princess Seam Boatneck Top-
princessseamtop in primrose Cotton Couture
If patterned bottoms aren't your thing, make these shorts in denim or white linen and pair them with the demure Princess Seam Boatneck Top-
princessseamtop in a spring floral. Bokashi blossoms is sophisticated in mint green.

Princess Seam Boatneck Top-
princesseamtop in Bokashi blossoms
Shorts are a summer essential, but the Spring Fling collection really shines in flirty dresses. What's sweeter than a pretty frock in pastel florals?
The Sweetheart Day Dress-
sweetheartdress has old fashioned appeal with a full skirt, wide tank straps, and pretty sweetheart neckline. This dress would look lovely with a floral skirt and coordinating solid bodice, like the graphic Petal Pinwheels in canary for the skirt and Cotton Couture in spa for the bodice.
You could also make the front bodice and skirt in a floral print, and use a peekaboo fabric like Lattice Eyelet in mist for the back panel. This shows just the tiniest bit of skin for a wearable look.
Sweetheart Day Dress-
sweetheartdress in canary Petal Pinwheels and Lattice Eyelet in mist
These soft focus blooms also look lovely in draped garments. You can see how easily this cotton fabric moves in this gathered dress, a Burda envelope pattern available here.

Bridal wear dress in Bokashi bouquet
Watercolor florals work beautifully as an all over print. The soft edges don't distract from construction details, like a lovely gathered bodice and flower detail. The Bokashi bouquet print is soft and dreamy as an Impressionist painting. This cotton dress wouldn't be out of place at the fanciest summer wedding.

Wrap Tank with Pockets-
wraptank in pink Bokashi blossoms and ozone Cotton Couture
One of the best selling patterns of summer is the Wrap Tank with Pockets-
wraptank. Patch pockets at the front are a fun opportunity for contrast. Try this top in the dreamy Bokashi Blossoms print cotton in blush pink. Cotton couture in ozone for the pockets brings out the darker details in this floral print.
The Wrap Tank with Pockets is open and breezy for a weekend at the park. These high density cottons still have a pretty, put together look but are easy care. Add a pair of boyfriend jeans, summery tote, and sneakers for an outfit that's casually stylish for those picnics and outdoor birthday parties.
The Spring Fling collection is light and fresh, and a pretty floral garment can make a long day at the office a little easier to bear. Take an office appropriate pattern like the High Waisted Mini Skirt-
highwaistskirt and style it with pretty fabric and accessories for a day brightening summer outfit.

High Waisted Mini Skirt-
highwaistskirt in Bokashi bouquet
In Bokashi bouquet, the High Waisted Mini Skirt is polished and ladylike. Tuck in a fitted shirt like the Jersey Top for a flirty look that goes right to happy hour.

High Waisted Mini Skirt in black and white Dumb Dot
This skirt has a totally different look in retro black and white polka dots. Tiny scale prints are easy to match, so give your outfit a little punch with a bright colored top. We'd pair it with the Silk Tank-
silktank in bright blue.
Our last pick for this collection is the simple A Line Tank Dress-
alinetankdress. This simple shift is a blank canvas for any style. Make it mod with a graphic polka dot print. Dim Dots print in Cloud or Mist have small scale gradient dots with a retro sixties feeling.

A Line Tank Dress-
alinetankdress in cloud Dim Dots
This simple cut is also a great showcase for more whimsical prints. The straight A line shape and unfussy V neckline won't compete with something bold and bright, like the summery Petal Garland in canary. Bring out the pops of color with matching sandals.

A Line Tank Dress-
alinetankdress in canary Petal Garland
Michael Miller Fabrics Spring Fling collection will get your creativity flowing. This curated collection has some of the best perennial perennial trends. Abstract florals, pastel solids, and retro polka dots work with so many styles, from office separates to dresses for those summer weddings. Even better, they're all easy care so you can wear them anywhere the summer takes you!
Happy sewing!