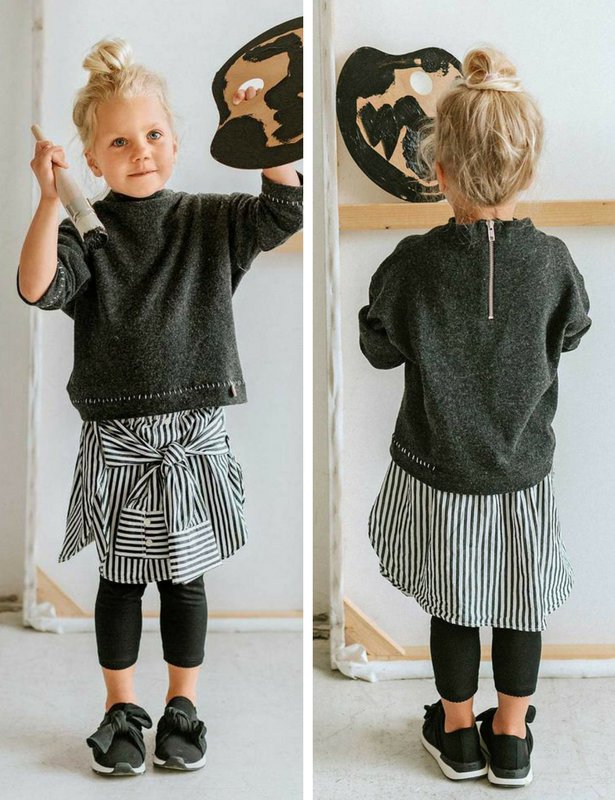 ShareThis
So creative! We sewed this cool skirt from an old shirt as seen in our Spot On! Girl's pattern collection. Read on to see the tutorial…
MATERIALS
+ Shirt
+ Scissors
+ Tape measure
+ Vanishing chalk
+ Safety pin
+ Elastic (2.5 cm/1" wide)

STEP 1: Mark desired skirt length on the shirt, from the hem edge up. Add 4 cm (1 5/8") seam allowance and cut skirt piece.



STEP 2: Machine stitch button band closed, from upper to lower edges. Tie-off ends of stitching with backstitches.



STEP 3: Press cut edge to wrong side, fi rst 1 cm (3/8") wide, then again 3 cm (1 1/4"). Edgestitch in place, leaving an opening to insert the elastic.



STEP 4: Draw an angled line across each sleeve, as shown.



STEP 5: Cut off both sleeves.



STEP 6: Cut elastic to fi t child's waist comfortably. Pull elastic into upper edge of skirt. Stitch ends of elastic together.



STEP 7: Finish cut edges of sleeves. Pin these edges to side seams of skirt and stitch in place.



STEP 8: The skirt "sleeves" can now be tied in front or in back, like a belt. Of course, the sleeves can also be omitted.



Pictured here with our Girl's Turtleneck Sweater 11/2017 #131B
FINISHED!
Although this DIY is shown here for a girl's skirt, you could easily transform a women's size shirt and transform into a skirt just like this. Looks great styled over leggings or tights and worn with a cozy sweater for the season.