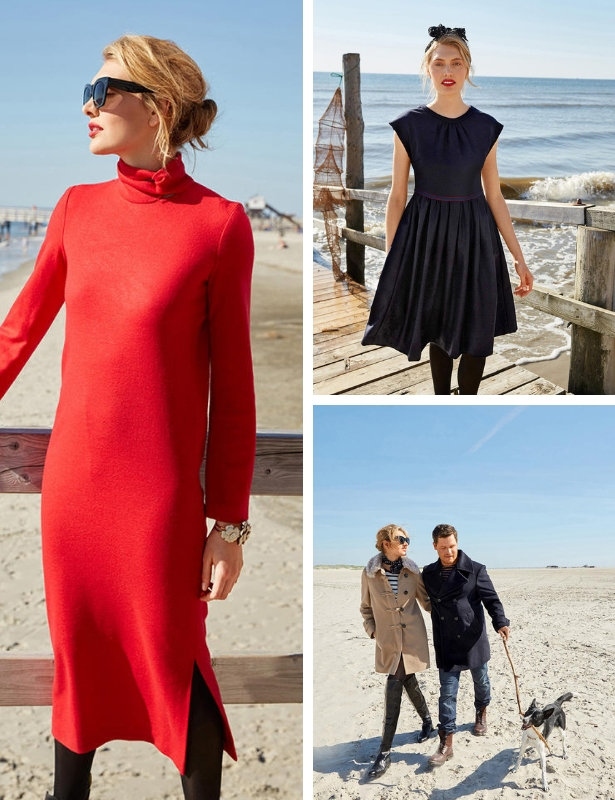 ShareThis
A Caban jacket, Marlene trousers, a duffle coat – these classic cuts, as well as knitted pieces for him and her from the 10/2018 issue of BurdaStyle magazine whisk us away to the Breton coast…

This wide, flowing long blouse with the V-neckline is a practical choice for many occasions. The sleeves include pleats just above the wrist so that the sleeve ends have a slight flounce.



The flared midi-length skirt is sewn with a beautifully patterned ribbed weave fabric for a classically feminine look. Sophisticated pleats at the waistline are a fresh touch. A narrow and fitted long-sleeve or turtleneck top is an especially beautiful silhouette style finish.



This jacket can be styled closed in front with the hidden snap closure for an asymmetric shape or open for a look of wide draping lapels. The color matched waist belt shapes a beautiful silhouette.



This lined duffel coat is sewn with a warming coat fleece and a (removable) collar of plush mohair. The toggle closures are self-made for an elegant finish.



A classic that is so lovely it makes you swoon to wear it! This marine blue dress with the swinging skirt and overcut shoulders also has a decorative trim at the waist to lend a whimsical spirit.



An asymmetric double layer along the bodice of this polka-dot blouse adds some dimension and a bit of extra interest to a beautiful waterfall neckline. The narrow cuffs seal a slight balloon billowing sleeve shape.



A particularly sophisticated addition to any wardrobe. These camel colored Marlene trousers sewn with a cashmere cascade elegantly from the pleated waistband. A belt modestly accents at the waistline.



All looks are sure to be drawn your direction with this red wool dress. The warm high-neck style is accented at the neckline with a sophisticated knot detail and the narrow skirt includes slits from the hem that end just below the knees. Pair it with a belt and some over-the-knee boots for a high fashion city look.



This classic white blouse is refreshed with a modern wrap style. The full dip of the V-neckline and a tying waistband make it an incredibly figure flattering look.



The classic Caban jacket is right back on-trend and is a must for every wardrobe. This style is a custom craftsmanship masterpiece. Sew it in a modern evergreen color, for a choice that can be worn fashionably for the office and for leisure.



This two-color XXL-shawl with its extra-long fringe is a warm accessory for winter. The large seed stitch is also a good project for beginners.



This cozy pullover has the potential for a real closet favorite. It is knitted with an alpaca-pure new wool- mix with a stocking stitch. The sleeves are decorated with an oversized cable pattern.



The beret is back! You can knit your own with this easy version using a stocking stitch. This style is worked in garter stitch, with a double band in stockinette stitch – and uses a yarn with Lurex that makes it especially beautiful.
Download ALL these marine time patterns with the discounted pattern collection bundle here!