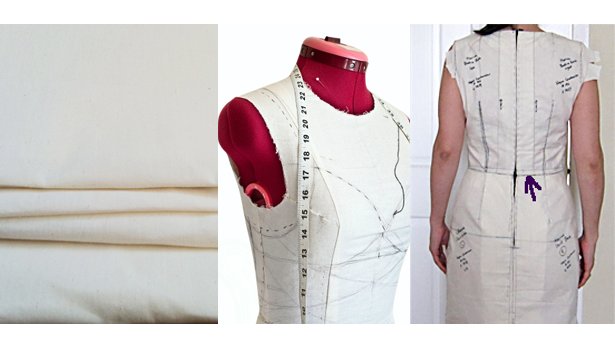 ShareThis
Do all garments you sew fit perfectly, readers? Pockets are where you wanted them to be, the neckline is not gapping and is high enough, and there is no ugly pulling on the back of your pants?
I have to confess, my early sewing attempts had a rather low success rate. Whatever didn't end up in a UFO bin, was worn once at most. This is when I started this self-imposed couture challenge – I really wanted to wear every project I cut, with dresses that fit, trousers that don't pull, and jackets that have flattering proportions for my figure. Have I achieved it? Yes! With the help of a toile [twal], or trial garment.
What is a toile?
______________________________________________________________
Toile, also known as muslin in the US, is the name for both, firmly-woven cotton fabric, and a trial garment. Susan Khalje, a couture instructor and contributing editor to the Threads magazine describes a toile in her article 'Muslin Refined' as "a fit and design laboratory" and "the essential first test or trial run for any finished couture garment."
"The toile is used to work out the proportions, the shoulders, the lengths, etc," Karl Lagerfeld explains in Episode 1 of my favorite couture documentary Signé Chanel. "If you use the real fabric right away you may not get a good fit. It's risky, so it's better to work from a basic structure or pattern that's discarded when the dress is cut. The toile gives you the proportions and an idea of the finished product, so you can avoid making mistakes."
Why bother making a toile?
______________________________________________________________
-because those commercial patterns were not designed to fit YOUR body. Sizing helps, but you still need to fit them
-because you can afford mistakes in muslin
-because your precious fashion fabric remains intact until you perfected the fit
-because you can finally dare to make more complex projects without having the fear that you would ruin expensive fabric
-because you can experiment with design ideas directly on the muslin
-because it cuts down the sewing time to a minimum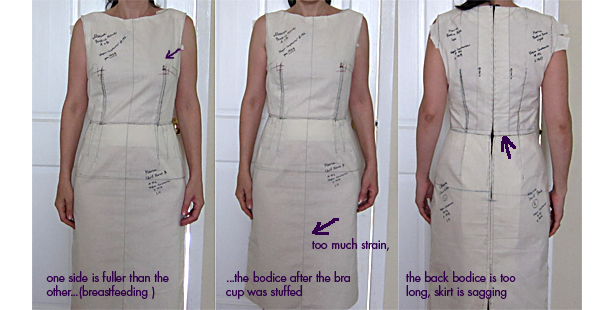 This toile made for Susan Khalje's Little Black Dress Class showed several fitting problems. Photo courtesy of Frabjous Couture.
Believe me, once you have made your first muslin and got the garment you wanted, you will never look back!
The proof is the growing number of home seamstresses using muslins to test-run their sewing projects. Amy, a scientist and a blogger behind Sew Well said she learned about muslins during the creation of her wedding dress, "My dress was made for me back when I had relatively little sewing experience. At first I was uneasy about the muslin process. We were making my dress from an idea I had in my head, and it took many iterations to get to a fabulous dress. Over the whole process I slowly gained an appreciation for muslins."
What fabric to use for a toile?
_______________________________________________________________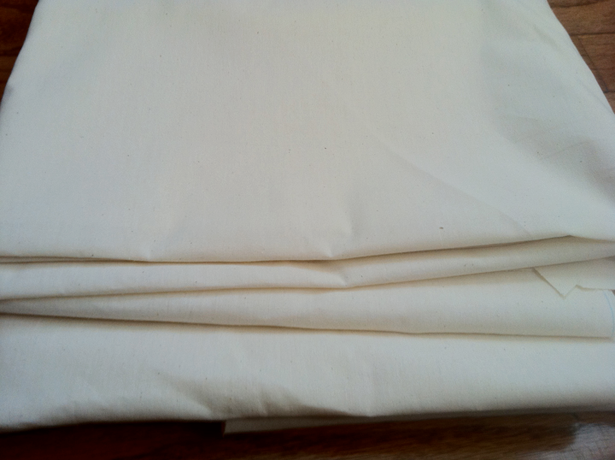 A toile is usually made from an inexpensive unbleached plain-weave cotton fabric. It is easily available in many stores in the US, but if you have difficulties finding it elsewhere, it can be substituted with old sheets, or plain-weave firmly woven cotton. Just make sure the fabric is on grain, so there won't be any distortion when you cut the pattern. Also, choose the correct weight – your toile fabric should behave and drape like your fashion fabric.
A fashion designer and blogger Magda of MagdaMagda Design Studio suggests using light colors because they are easy to work with. "Also, using a shade close to the one your final garment can be is useful in predicting the visual effect," she said.
Do I need to make a toile every time I make a new garment?
_______________________________________________________________
IowaHoodlum, who blogs at Feather Petal Silk said "I would 'muslin' anything I would not be comfortable scrapping all the fashion fabric, but mostly when I makes the pattern for the first time, though. I disassemble the muslins and use them as the pattern and then keep them for future pattern use after the project is finished. If I've changed significantly in size, I can re-sew and refit the muslin the next time I make the project."
I always make a toile when I…
1. Need to match print, plaids, or any other pattern
2. Work with a pattern or style that has complex details
3. Anticipate fitting challenges
4. Want to make changes to proportions, such as length, or placement of pockets
These are just a few suggestions and, in fact, there are some situations when you don't need to make a full muslin. Think of a dress with a fitted bodice and a full skirt. If you are under tight deadline, you could make a partial toile for the bodice only. Or, you want to create a different collar for a blouse – attach a muslin mock up to the bodice.
Making a toile is for advanced seamstresses. – False!
________________________________________________________________
Making a toile does require time and some fitting experience, and if you are a beginner the process may be challenging. However, this is your best learning experience! The good news is that there is a large online sewing community ready to help with fitting or sewing advice. "While participating in the Male Pattern Boldness Men's Shirt Sew-Along, I would post a photo to the Sew-Along Flickr group of a muslin that I thought looked fine, and almost instantaneously I'd get input on various fitting issues that I hadn't even seen due to my inexperience," Amy said. "The kind seamsters would point me in the right direction, say for a square shoulder adjustment, and after I made the corrections to my muslin, I could see a world of difference in the way the garment flattered my husband."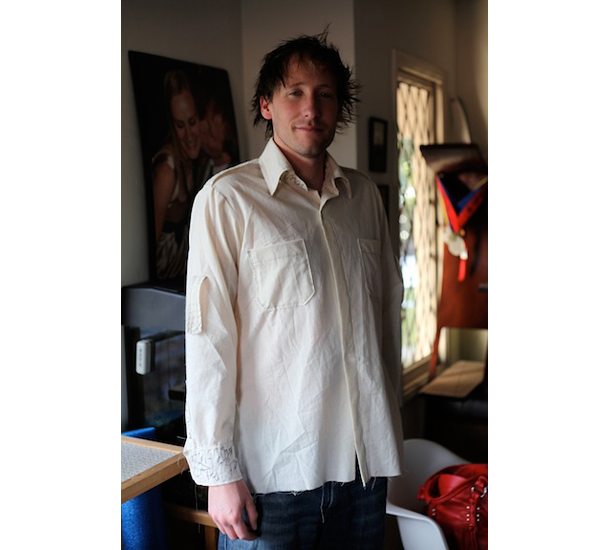 The initial muslin draft. Amy ended up adding a square-shoulder adjustment, narrowing the side seams, and adding a lot of length in the final shirt. Image courtesy of MBP-Amy.
She continues, "As someone relatively new to sewing, I'd suggest to other newbies to take advantage of their sewing community, whether that be local seamsters or the online community (particularly during Sew-Alongs). Other sets of eyes on your muslin, particularly fromthose with more experience, can make a world of difference on a final garment."
Here are some options for getting virtually instant feedback on your fitting and design
challenges:
-Online forums, such as Patternreview.com and the Stitcher's Guild Sewing Forum
-Sew-Alongs hosted by many sewing blogs
-Couture Classes often incorporate the process of muslin making (check out Patternreview.com for available online options)
Label, store and re-use!
________________________________________________________________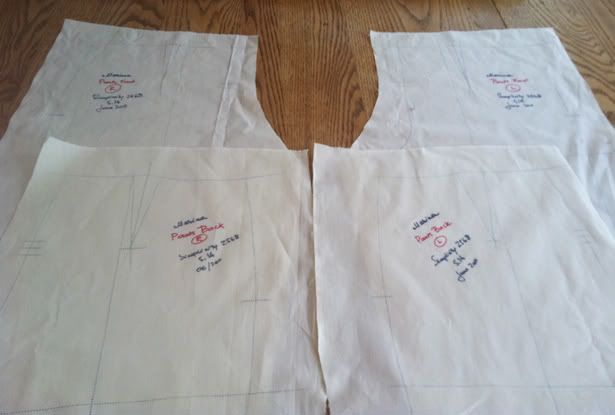 Labeled muslin.
One final word about a toile. A well-fitted toile is invaluable! You can re-use them, adding or removing design elements, making a few subtle changes in case you gained or lost weight.
Here are some of my favorites:
-A toile I made for a pencil skirt half a year ago has been re-used several times,
also for a dress
-My Chanel-inspired jacket toile is now going to be used to cut a red felt coat.
-What about a pair of fitted pants? I can make them in print, in wool, cotton, linen – I can use this pattern over and over again, raising waist, adding pockets…
My final tip is to label the toile with a permanent marker directly on the fabric. Write your name (if you are not the only one who you sew for), date, pattern name and size, add the name of the pattern piece and store it in a clear plastic bag.
Have you had experience working with a toile? What styles do you reuse more often?
~Marina
Marina von Koenig blogs at Frabjous Couture, documenting the process of learning couture sewing techniques. Visit her blog for a step-by-step tutorial for making a toile.