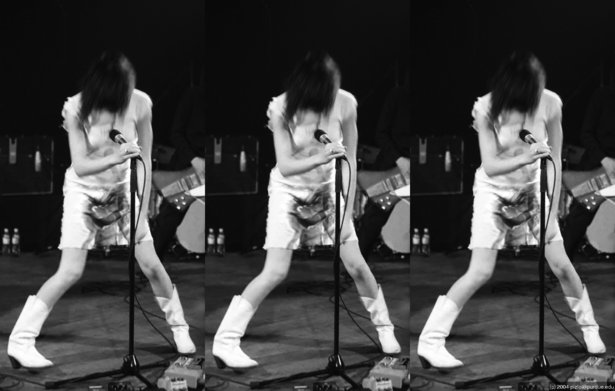 ShareThis
We interrupt our coverage of the Spring/Summer '08 fashion weeks for cultural news of infinitely greater consequence. (At least according to this correspondent.) PJ Harvey's new album, "White Chalk," comes out next week, and good god, if you're not on the Peej's bandwagon by now, you'd better get on it ASAP. The woman has literally never released an album that wasn't surprising, scary and scarily beautiful. "White Chalk" sees PJ trading in her usually guitar-based sound for piano-drenched balladry, muted in volume but not in spirit. She is a genius; all hail the amazing Polly Jean.
Returning to fashion: Let's talk about Miuccia Prada, likewise a talent who chooses to dare herself in new directions. She's followed last season's weirdly apocalyptic collection (astro-turf hats! rubberized leather!) with one even more evocatively strange. Basically, she showed pajamas. This was very much in keeping with Spring/Summer's emerging lingerie theme, but still. To Miuccia's credit, the oddball show managed to induce plenty of mouthwatering; there was something ultimately winning about her Poiret-meets-Aladdin aesthetic. But Ms. Prada is nothing if not an intellectual, and I was forced to wonder if this collection signaled some conceptual resignation on her part. Fall's controversial Prada show was nothing if not fiercely engaged, seemingly taking on issues such as global warming and unimpeded biotech. This season, well, apparently Miuccia wants to take a nap. Either that, or she's decided that everyone watching is half-asleep anyway.
As for the rest of Milan: Meh. Raf Simons show for Jil Sander was typically cool, and offered a more youthful vision for Sander. The puffball dresses were a little loopy, if brilliantly constructed, and good luck to anyone but the anorexiest models who wish to pull off the rest of the show's severely skinny silhouette. Karl Lagerfeld was feeling Op-Art for Fendi; individually, the long, featherweight dresses were hypnotic; taken together, the show was migraine food. Gucci: Boring but wearable in the yellow/black, '80s-influenced section, to-die-for accessories, please no more bubblegum pink or rockabilly skirts. Frida, methinks, has been watching Grease. Dolce and Gabbana: Boudoir Versailles, and consequently nuts. Versace: Donatella doesn't think women should look like sluts, after all. I think that about covers it. Think prints.
In other news, Radiohead's new album is out on the 10th, and only available online.