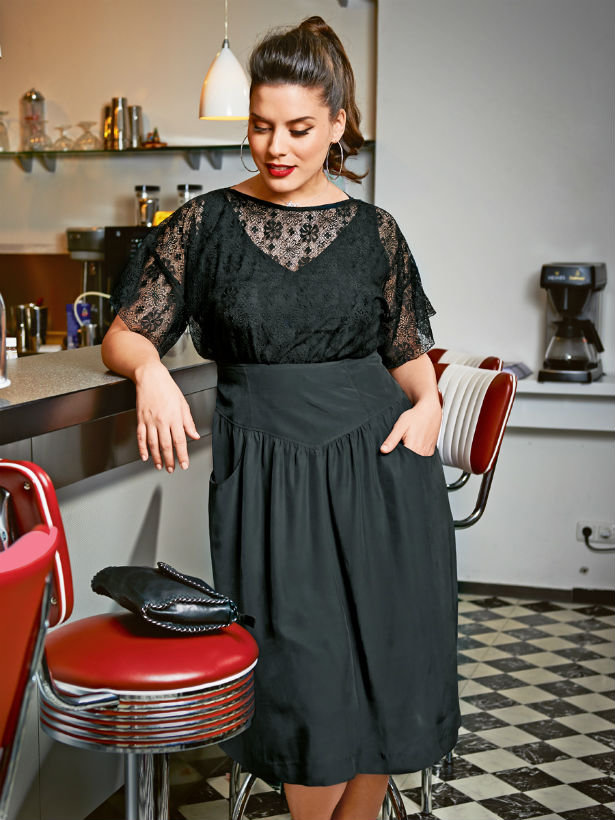 ShareThis
Recently we showed you some of the sheer styles we've been loving on the red carpet lately, which left some of you wondering… how can we sew them?! We admit: It's easy to get swept away by the soft chiffons and shimmering sheers and forget all about the hard part! Sewing delicate fabrics can be a challenge, but these tips will have you tackling those tricky textiles in no time.
Cover photo: Lace Bodice Dress
★ If you're sewing a woven fabric such as chiffon or organza, use the thread-pulling method to find the true straight grain. (Check out this video… you'll be surprised at the difference it makes!)
★ When working with slippery fabrics, it's always a good idea to cut pattern pieces from a single layer of fabric. For any pattern pieces meant to be cut on a fold, mirror the pattern piece on paper and trace it out in full.
★ Avoid patterns with a lot of seams, darts or facings and stick with loose, flowing silhouettes.
★ Sandwich fine or delicate fabrics between pieces of tissue paper or muslin for added stability. Put weights in the corners of the outstretched fabric to keep everything laying flat.
★ Secure your pattern pieces with pins to ensure the fabric won't shift as you lift to cut. Or better yet, use a rotary cutter!
-Some sewers skip these slippery situations all together and stiffen fabrics with spray starch or water-soluble stabilizer before the cutting stage.
★ Use weights to secure your pattern pieces. If you prefer to use pins, first stick a few into a scrap of your fabric. Make sure they don't leave obvious holes or damage the fabric.
★ When cutting out your pattern pieces, cut through all layers at once (tissue paper/muslin and self fabric).
★Use your fabric shears with caution when dealing with specialty fabrics. Use craft scissors to cut through embellishments such as sequins, heavy embroidery or metallic blends.
★ Shears with serrated blades are another useful tool as their special edges grip fine fabrics for smoother cutting.
★ Never cut into your seam allowance. Mark notches and darts with tailors chalk, a fabric marker, or basting stitches.
★ Always start your project with a brand new needle.
★ Use fine to medium sized needles with a sharp point (try 60/8 or 70/10; you may need to size up or down depending on the weight of your fabric).
★ Use a straight stitch needle plate on your machine to prevent fabric from getting pulled into the machine as you sew. Alternately, you can stick a piece of scotch or masking tape over your regular needle plate and simply lower your needle to make the hole.
★ Shorten your stitch length to 15-20 stitches-per-inch, or 1.5-2 on your sewing machine settings.
★ Instead of back tacking, leave enough thread at both ends of a seam and tie them off by hand. Fine fabric can easily bunch up or get caught in the machine while backstitching.
Assembly and Finishing Touches
★ If your sheer garment requires interfacing, use a piece of self fabric or matching organza instead. Look for a lightweight knit/tricot fusible interfacing if visibility isn't an issue.
★ Sew a french seam or a double-stitched seam for a tidy, professional finish. Not only does it look nice from the outside, it adds stability to your seam and prevents fine fabric from fraying.
★ Apply Fray Check along any raw edges to avoid unraveling.
★ A popular hem for fine fabrics is a neat and narrow hem called a baby hem. This is the finish you see on most ready-made clothing, as it's subtle, easy to sew and won't weigh down the fabric.
★ If you have a serger, a simple rolled hem is a fast and easy way to finish raw edges. You can also get a rolled hem presser foot attachment for some sewing machines, or sew along the edge using a narrow zigzag stitch.
★ When it comes to closures for lightweight fabrics and sheers, anything heavy (exposed zippers, large buttons, etc.) will weigh down the garment and tug things out of place. Use small buttons and snaps, hook and eyes or an invisible zipper.
★ When lining a sheer garment, keep in mind that both right sides will be facing outwards.(You won't want the wrong side of your lining to show through the garment!) Sew the wrong side of the lining to the right side of the sheer. If you want your garment to be fully lined on the inside as well, you can sew another lining and attach it to the shell. Sew right sides of both linings together. Choose your lining fabrics carefully in order to avoid adding too much bulk.
Care to share any of your favorite tips for sewing delicate fabrics?
Happy Sewing!