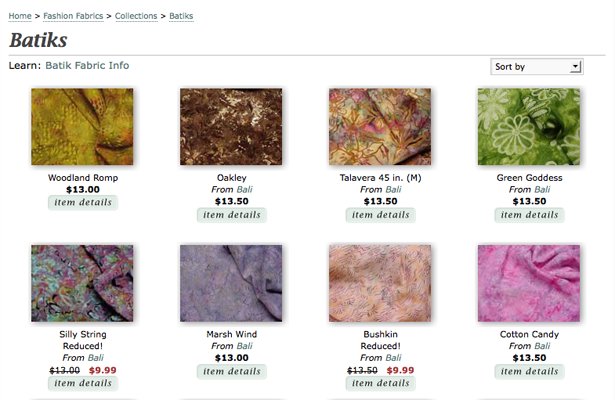 ShareThis
Buying fabrics online will never replace the satisfaction of shopping in a well-stocked fabric store, because seriously, who can resist petting, fondling and draping fabric in person. But you know what comes close? Ordering fabric online, opening the package when it arrives, and discovering yay!, it's just what you wanted. Online fabric shops are a boon to home sewers in areas where the nearest fabric store is miles away. Just follow these tips and you'll become an online fabric shopping pro in no time.
The cardinal rule—know your fabrics. The better online shops provide complete descriptions of fiber content, weight and drape, but you need to know what this means before you place your order. Matelassé is not the same as jacquard, wool bouclé looks and feels different from polyester-blend bouclé, and just because they're both cotton doesn't mean lawn and twill will drape the same way. Take the fabric scraps you have at home, put a label on them that identifies the fiber content, and keep these in a box or bag for reference. If you're at a brick-and-mortar fabric store that allows swatching, ask for swatches of fabrics you're not familiar with, just to build your reference library. Two excellent fabric reference books to own are Fabric Sewing Guide by Claire Shaeffer and More Fabric Savvy by Sandra Betzina; Fabric U is an iPhone app that provides information about 120 well-known fabrics.
Ask for swatches before you order. Many online stores will let you order swatches for free or a nominal charge. Obviously seeing the fabric firsthand before you order is the way to go, but sometimes the online shop will have such a limited quantity available that by the time you receive the swatch and subsequently place your order, it's all gone. Call the online store directly and ask if they think there is a danger of this happening with the particular fabric you like. If not, by all means order a swatch.
More descriptive copy is a good thing. Patronize online fabric merchants who take the time to really tell you about their fabrics. Take, for example, this fabric description from Emmaonesock:
"This is an amazing matelassé brocade from Tahari, such a wonderful quality in that it's malleable and flexible—not stiff and synthetic-feeling—yet it has plenty of body for tailoring. Highly textured with a beautiful and elegant floral design and a slight ombré effect in gradations of cool gray with black. … It's a medium suiting weight perfect for a Chanel-style jacket, suit, fitted dress, etc."
Really helps you decide if this is the right fabric for your needs, right? Plus, it's always helpful when the descriptive copy identifies what type of garment the fabric is best suited for.
The more photos of the fabric, the better. Close-up shots are helpful, but a photo or two showing how the fabric drapes are uber-beneficial. If you want to make a floaty tunic but in the photo the fabric you like forms stiff folds, then you know it's not the right fabric for your application.
Be color-flexible. Color is so subjective. Your monitor at work may show the fabric as dark gray while your iPhone shows it veering toward black; one person says a color is pink, while another swears it's salmon. If you are seeking a very specific color, then order a swatch. Some online merchants provide PMS colors but even this is no guarantee the fabric you order will be the deep maroon with a tinge of blue you're seeking. For continued online fabric shopping success, it's best to be flexible when it comes to color.
Check out the return policy. The better online stores will allow you to return any fabric you're not happy with. Read the return policies before you place your order.
Join the mailing list. You need to be in the know when new fabrics arrive or go on sale, because the good stuff goes fast.
There are hundreds of online fabric stores out there, especially when you include all the fabric sellers on eBay and Etsy. Here are a few shops that have earned strong word-of-mouth among home sewers:
Emmaonesock: Can be pricey, but one of the best places on the Internet for designer fabrics.
FabricMart: Best for their sales, where you can find things like Vera Wang cotton faille for $1 a yard.
Fabric.com: Best for home decor and quilting fabrics, though they do feature some attractive fashion fabrics from time to time.
Michael's Fabrics: Stock up on basics like cottons and wools when they go on sale.
Sawyer Brook: Its fabrics come from a wholesaler in NYC that specializes in European textiles.
Mood Fabrics: Online site operates independently from Mood's two retail stores; excellent source when you're looking for basics—silks, wools, etc.—in a huge array of shades.
Meg McDonald has been sewing ever since she made a peasant blouse at age 12. She writes about the wonderful fabrics, trims and notions NYC's Garment District has to offer at Shop the Garment District, an online guide for sewists and crafters. Meg shares her personal adventures in fashion sewing on her blog, Lindsay T Sews, where she readily admits she still has "what was I thinking?" moments when it comes to some of the things she makes.