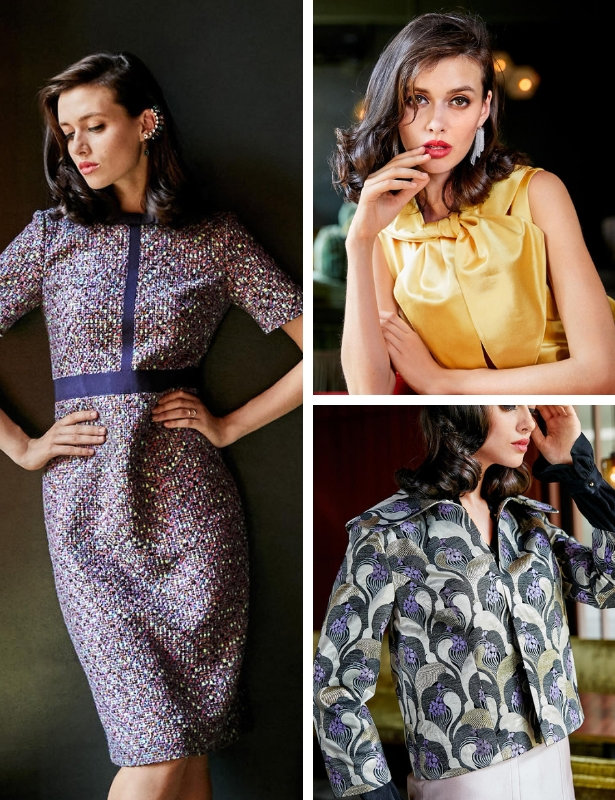 ShareThis
Ladylike and elegant: These styles from the 01/2019 issue of BurdaStyle magazine with a nod to the 50s are a breath of fresh air. We pulled some fashions from the Burda 50s' collection which are timeless favorites to put back into rotation with fresh ideas.

The cropped jacket includes a turn-down collar and the edges and sleeve hems are finished with a petersham accent.
The green pleated blouse underneath is also a BurdaStyle pattern! It's our Pleated Blouse from the 10/2015 issue.



Topstitched petersham sewn onto a fine bouclé punctuates this dress from 1959 with an extra splash of chic.



This blouse with its XL- bow and covered buttons looks just as great for a party outfit as it does when paired with casual denim. To bring it closer into the figure, simply wear it as shown here with a narrow leather belt – or use a kit to cover a belt in the same fabric.



This maxi skirt with the deep box pleats is a look that turns heads today just as it did in 1952. The panel seams in front come together at the top with a tipped look on the pockets and they are closed with covered buttons.



A style that transcends into the sixties: The boxy look with cropped sleeves from 1959 is a classic with clean lines and princess seams that hug the figure softly.



So ladylike…this satin blouse features a shawl-like collar that finishes in a wrap. This style was first shown in 1955. For a striking collar update, cut the collar pattern piece in a contrast color fabric.



Oldies but Goodies – These cuts, fabrics, and colors from earlier Burda fashion editions are celebrating a comeback this month!


Sew up ALL these retro special styles with the discounted pattern collection bundle here