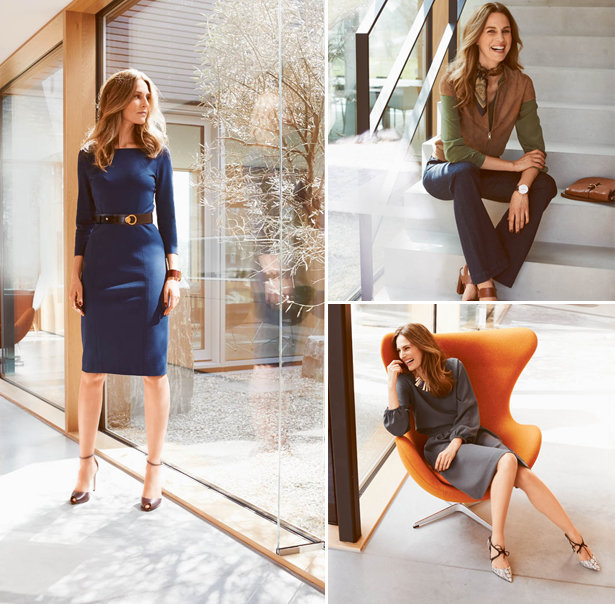 ShareThis
This beautiful collection from the August 2015 issue of BurdaStyle is full of classic pieces that will last and be worn for a lifetime. Interesting dresses, intricate jackets and even a few optical illusions.
Click each pattern image to purchase in the pattern store.

Spanish Forest Houndstooth Poly-Cotton Woven; Italian Sand Stretch Wool Blended Coating; Beige Windowpane Stretch Wool Woven
These wide leg trousers are a chic and timeless piece that can be worn for years to come. You can also make them in a shortened, culotte version. Paired with a cashmere sweater or crisp, white tucked-in button up.

Black and Dusted Blue Abstract Blended Wool Knit; Nautical Blue Stretch Rayon Ponte Knit; Black/Gray Stretch Jersey Backed Neoprene
Every closet should include a jersey dress and this piece adds extra interest with a retro twist. The geometric seams offer an optical illusion to slim the figure.

Citron Solid SIlk Faille; Vibrant Yellow Solid Silk Crepe; Ralph Lauren Multicolor Plaid Silk Shantung
Not your average T-shirt. This satin short sleeve shirt features a crew neck and a one-sided fabric overlay that dresses it up. Make it even more fun by using a different piece of fabric for the overlay.

Italian Tri-Color Plaid Wool Blended Coating; Ralph Lauren Brown Plaid Italian Wool/Cashmere Suiting; 24L/15mm Italian Gold Zamac Shank Back Button
This polished pencil skirt features decorative buttons at the front top, which enhances its classic nautical feel. There are two darts in the front and back for a perfect fit and it closes with a side zipper.

Medium-Beige Stretch Polyester Satin-Faced Crepe; Heathered Tan Gauze-Like Cotton-Polyester Crepe; Rag & Bone Stone/Black Printed Stretch Silk Crepe de Chine

Rarely an elegant dress is as comfortable as this, ideal for long days on the job! The smocked waistband with elastic thread brings the casual raglan cut nicely on waistline. The sleeves are shirred with elastic.

Brick Stretch Rayon Ponte Knit; Italian Tomato Stretch Viscose Blended Ponte Knit; Beet Red Solid Viscose Jersey
This classic sweater features raglan sleeves and tight wrist cuffs. It falls semi-loosely to the hips and can be worn in a variety of colors for the rest of your life. Pair with a pencil skirt or trousers for the office and throw on over jean shorts and loafers for a weekend brunch.

Silver Silk Crepe Back Satin; Feather Gray Silk Crepe Back Satin; Cream Pink Silk Crepe Back Satin
This satin raglan shirt has the style of a casual top but when you make it in beautiful satin material it becomes a whole new shirt that can be worn to the office and out for drinks.

Haute Hippie Forest Green Silk Double Georgette; Green Printed Polyester Georgette; Kelly Green Silk Double Georgette
This lovely dress features a waterfall of ruffles down the entire front. The frills are open-edged quilted seams and finishes the very straightforward with a narrow zigzag stitch. It hits just below the knee and has small short sleeves. Perfect for your more formal occasions.

Navy Wool-Polyester Gabardine; Italian Navy/Beige/Caramel Striped Stretch Wool Gabardine Suiting; Tanya Taylor Navy Stretch Cotton Twill
This asymmetrical midi skirt is a beautiful piece that will pull together so many different outfits from the office to the street. As you might notice in the picture, the hemline is slightly longer in the back than the front.

Forest Green Solid High Quality Velvet; Italian Dark Teal Wool Blended Coating; Italian Brown Wool Blended Coating
This blazer with a spade collar and leather buttons is full of elaborate details such as the contrasting pockets and reinforcements on the shoulders and sleeves. Velvet is also not any easy material but sewing professionals will love this timeless piece!

Driftwood Solid Faux Suede; Herb Solid Faux Suede; Medium New Wheat Embossed Goat Suede
This vest with extended shoulders and smocked waistband is reminiscent of a men's jacket. The zipper underlines the sporty look and it can be worn and paired with a number of items, just use your imagination!
Happy Sewing!