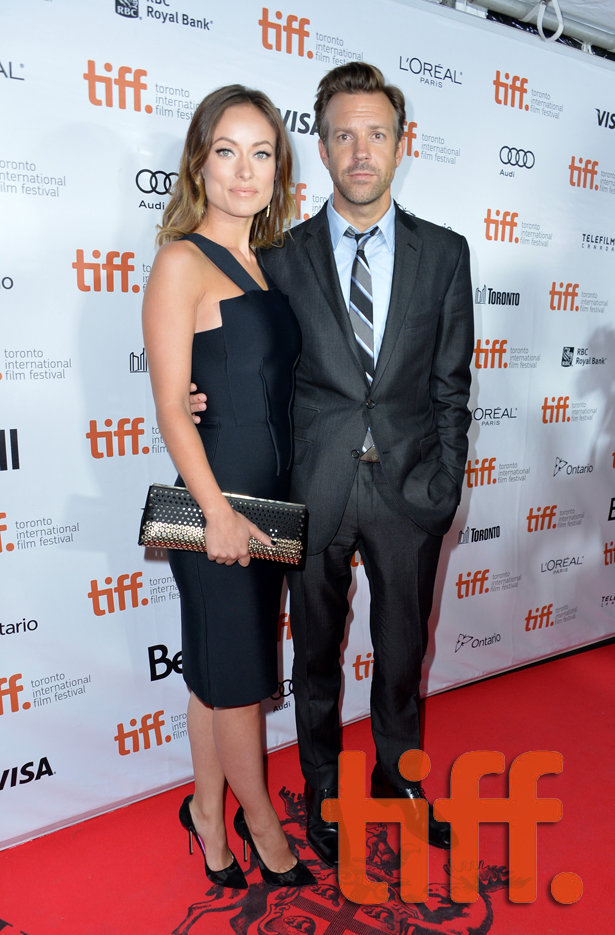 ShareThis
Every year around this time celebs flock to Toronto, Canada for their film debuts! Of course there is a red carpet, and of course there are tons of stylish looks from the stars. Even in the midst of NYFW some style makes its way up north to Canada for us to see. I gathered some red carpet looks that I adore, and some that I don't quite 'get'. Check out these styles and see for yourself!
First off, we have the lovely Olivia Wilde and Jason Sudeikis attending the 'Rush' premiere. They look lovely in their dark hues, but most of all I love Olivia's geometric dress with cut up neckline and exposed darts…very edgy and cool.
Now this is an example of good and bad digital 'garden' prints. Alicia Vikander (to the right) overwhelmed in this 'bag' style, floor length Erdem gown. I hate this silhouette of dress, it does nothing for her feminine body! I do much prefer Keira Knightley's Mary Katrantzou strapless number. The print has more dimension, and the gown has a lovely fit!
I loved both Scarlett's and Jessica's sweetheart dresses above! But I must say, that color looks great on Jessica. Note to self: A red head looks great in a soft turquoise! Although I am a fan of the polka dots on Scarlett, I really don't like the color on her. The maroon is a bit blah, and I was thinking it would have looked great in black with white polka dots!
I don't want to forget about the guys! Zac Efron ditched his High School Musical jersey for a dapper check suit and striped tie. I absolutely love the contrast of the patterns and color, sure jazzes up the old suit-and-tie! Then there is Jared… his long locks fall on the shoulders of his dark ebony blazer, with just a touch of sheen. Sure it is a red carpet, but only Jared can pull off that low cut under shirt. Love both these looks!
Then there is Sandra Bullock promoting her new 'Gravity' movie. I don't particularly love either look, but the cream and black color-blocked dress is the better of the two. I really like when dresses mix shiny and matte fabrics together, and if I were to recreate this dress I would use the same color palette and just make those horizontal seam lines straight. The fuchsia printed dress looks a little dated to me, and I'm not a fan of the large white strip on the side. Although I must say, I really like that color on her!
I really enjoy observing red carpet styles, and see what items stand out to me and inspire me to create my own look. Do any of these styles inspire you?
Happy Sewing!
Meg
Photos from Getty Images