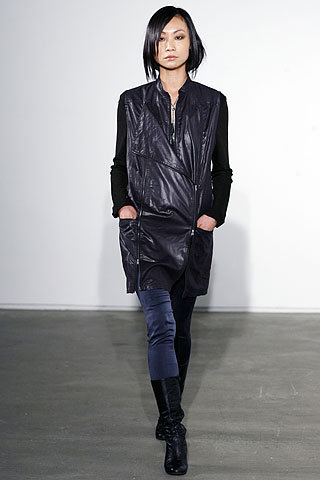 ShareThis
This week, BurdaStyle goes on the road.
FASHION
ROAD
WARRIOR
I am a total pack rat. My apartment is decorated with the hundreds of books, CDs and magazines I've amassed over the years. I refuse to part with my collection of VHS tapes, despite the fact that I no longer have a VCR. There's a box under my bed filled with drafts of forgotten scripts, old rolodexes, outdated headshot postcards, and instruction manuals for printers, cell phones, Palm Pilots and laptops I've long since upgraded. I keep Altoids tins around on the theory they'll come in handy, the shelves of my medicine cabinet sag under the weight of all the tried-but-didn't-like moisturizers I figure I'll pass along to friends, and I have never, ever, thrown away a shopping bag I thought I could re-use. In my own defense, I do re-use them, the Altoids tins have come in handy, and I am pretty generous about letting my friends shop my beauty closet. But every so often, like, when I'm turning over my apartment for a copy of the credit card bill with the never-resolved, still-disputed charge, I wish I were a minimalist. I wish I were one of those people who could pack my life up into a rucksack, hop on my vintage Ducati, and set out for parts unknown. I dated a guy like that. It didn't work out.
Here's the thing: Almost every thing I have thrown out, I've missed. Some stuff I miss in theory, like the Mary Janes I wore all the way through and then kept on wearing, until I made my best friend throw them in the dumpster while I wasn't watching. They needed to go, and so did the college-era jeans I no longer fit into, and likewise the assortment of empty matchboxes from bars in London, Paris and Reykjavik. "They're souvenirs!" I cried, as Faith dusted them into the trash. Then she went for my favorite parka, the one with the down falling out of the sleeve, the ripped pockets and fraying seams, and asked me, gently, whether I was ready to let it go of my own accord, or if she needed to take it out to the street and set in on fire. "Fire," I said. I was moving.
Then there's the stuff I genuinely regret. Number one: All the mini-DV of the segments I'd produced and hosted for a defunct broadband channel, footage I'd meant to edit into a reel but never had, and then tossed on principle, because I was done with the video part of my life. Lesson learned. You're never as done with an experience as you think you are. Number two: The bag of clothes from Daryl K. These were pieces I'd picked up at her old outlet store in the East Village, a treasure-trove of samples and remainders from seasons past. There was a bucket at the front of the shop, and anything in it sold for $10; sometimes you got lucky, and sometimes, you bought a dubious pair of pants just because they cost less than dinner at the Thai place down the street. All my dubious buys got the sack when I moved to my new place. Lesson learned. Do not doubt Daryl K. She sees the future. She is smarter than you. There's not a single item from the bag that went to Goodwill that hasn't, at some point in the intervening years, made it down the runways. Draped tops. Skinny jeans. A cocoonish coat of black fake fur. Pleated shorts with a paper-bag waist. A pin-striped vest. A neon mini.
Daryl's line came roaring back to life a couple years ago, and every time she shows a look I think is a miss, I think back to the bucket on 6th Street, and the Goodwill bag, and I readjust my eye and realize she's hit the target once again. She has a very definite aesthetic; she's not one of those designers who shape-shifts every season. But when she moves an inch or two in a new direction, she does it with real force, and it's worth paying attention. To wit: This season, just when big on top and skinny on the bottom was starting to look precious, and a little passé, Daryl comes out with this drop-dead-sexy, take-no-prisoners reinterpretation of the silhouette.
"The electric '70s, Marc Bolan, Black Sabbath, Nico and the Velvet Underground," cited Daryl of the collection, passing word through one of her friendly minions. "Echoes of black leather and black vinyl, all combined with the Bree Daniels style in Klute"
Real rock 'n' roll chick, in other words, downtown New York glam '70s style. That's according to Daryl, and absolutely, you could see the Klute reference in the long black mac that opened the show, the one that looked like it had been crafted out of a Hefty bag, but was in fact made from a high-tech Japanese fabric. The glam was there in velvet and satin leggings, and in the hit of androgyny in a shiny button down or oversized blazer. But this is what I took away from the collection: Road warrior.. The sparkle-dusted bombers seemed like jackets that had just gone cycling through fairy dust; the leathererette jeans and boxy, extra-long vest looked tough enough to withstand a spin-out at 100 miles per hour. Then there was the S&M touch of a ruched, skirted top, and the black vinylesque leggings that appeared to have been melted onto the model's bodies: Those pieces reinvented biker chic, gave it a whiplash sharpness, and the girl who wears them will step right out of any easy rider's naughtiest dream. I'm making space in my closet. These are clothes to keep.