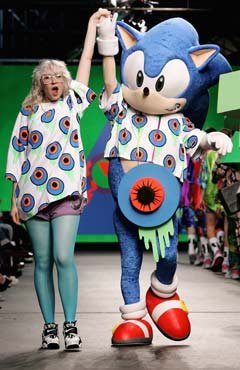 ShareThis
This week, BurdaStyle gets its groove on.
FASHION
DANCE
DANCE
REVOLUTION
We have entered the age of simultaneity. Once upon a time, not too long ago, in fact, retro looks had their day in the sun and then faded again, replaced by the next old idea newly exhumed from the thrift shops. No more: Looks for spring and fall range across a vast spectrum of inspiration, with the '20s, the '30s, the '40s, the '60s, the '70s, and pretty much every formerly degraded look from the '80s represented, somewhere. The really postmodern thing is go time-traveling in your closet, mixing and matching among the epochs. Straight-up homage would be so…predictable.
Now the '90s are coming back, too, a little ahead of schedule but looking on-target nonetheless. Early '90s Alaia and Leger have already been making their influence felt on the red carpets and the runways, their body-conscious dressing recalibrated for the millennial era's skin & bones silhouette. Young English designers such as Christopher Kane are giving the look another update, by looking back to the neon palette of the rave era, and though we've seen those electric flashes before, in respects paid to punk and New Wave, the young Brits are painting bright with broader strokes, and their Ecstasy style is of a piece with the hoodies, graphic patterns, baggies tees and techno sportswear being remixed by a host of on-the-cusp designers. Cassette Playa, pictured, is the standard-bearer for the nu-rave scene. Though designer Carri Mundane makes her clothes for men, her "life inside the video game" aesthetic has captured the imagination of plenty of girls, too, among them pop star M.I.A., and Cassette Playa's neon-splashed boombox and bleeding eyeball tees have been selling out at trend-starting shops like London's Pineal Eye and Seven New York.
A somewhat more sober reinterpretation of rave could be seen on the Karen Walker Spring '07 runway. The New Zealand designer, who has a rare knack for giving on-the-pulse looks a ladylike spin, paired her cocoonish, fuschia anorak with a natty gray silk dress, draped a dove-gray blazer over a baggy skirt in blinding yellow, and gave a demure dress an acid flashback by putting fluorescents into its floral print. Brooklyn up-and-comer Sunshine and Shadow, meanwhile, gave her athletic, made-for-moving Spring '07 collection an African remix, putting abstract, tribal-inspired patterns on hoodie vests and drawstring dresses.
Dance is all over the place in fashion these days.
Press inquiries:
Melissa Dinan
1.212.219.3305 x224 (Steven Alan)