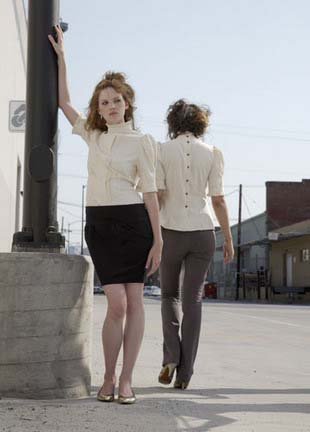 ShareThis
This week, BurdaStyle takes on life, love and mankind.

FASHION

GET

UR

ECO

ON

Once upon a time, looking like an environmentalist pretty much meant looking like a patchouli-smelling hippie. Not so anymore. The ideals of the environmental community have changed, and though you can still find a few hardcore, hemp-raising, off-the-grid types who preach a back-to-nature gospel, much of the focus now is on integrating sustainable goods and practices into everyday modern life. Hence: biodegradable dish soap that smells like lavender and lemongrass, botanical nail polish, and organic wine, to be drunk in recycled-glass goblets. The lifestyle focus extends to fashion. A new generation of designers is emerging, and they are committed to making eco-conscious dressing the ne plus ultra of cool. As Barneys Fashion Director Julie Gilhart told WWD, announcing the department store's new Barneys Green initiative: "This isn't a trend. A trend is something that dies. This is a movement."

Barneys deserves props for its Green project: Gilhart has done her research, looking into long-range sourcing issues and thinking hard about how her customers can be cajoled into sustainable shopping. Together with her partner on the project, Loomstate's Scott Hahn, Gilhart appears to have arrived at the conclusion, which I believe to be correct, that you get people to buy sustainable clothes by making accessible clothes that just happen to be sustainable. The price points are high, but this is Barneys; people don't shop there because they're looking for bargains. And with designer Rogan Gregory on board, the sustainable sportswear basics hitting Barneys shelves this month come with instant style credibility attached.

Los Angeles designer Linda Loudermilk has taken a different tack, investing heavily in research into state-of-the-art sustainable fabrics, production methods and business practices, and then aiming squarely at the tippy-top of the red carpet market. There's an argument to be made for this strategy – no can deny the importance of getting the tabs and fash rags' favorite influencers on board – and Loudermilk has helped to push the luxury conversation forward. But only heavyweights like Marc Jacobs or Karl Lagerfeld have the ability to move markets, and if a big change is going to come, it's got to come from below. Which is why Wal-Mart's new green program is probably the most important one, long-term: The $10 organic jeans from Chaus aren't necessarily firestarters from a fashion perspective, and sustainability-wise, they aren't perfect, but those jeans could change the way millions of people think about eco-conscious clothes, and make them all the more likely to take notice of the green apparel coming to market courtesy of Nike, Patagonia and Levi's.

The most encouraging trend, however, is in some ways the smallest. The world over, petite, independent, sustainable fashion boutiques are opening up, and nurturing the loose coalition of eco-conscious young designers whose wares stock the store shelves. Ekovaruhuset recently moved into the hipster village of New York's Lower East Side, only a few blocks down from likeminded lifestyle shop Kaight. Between the two stores, a stylish girl could go a long way toward filling up her summer closet, guilt-free. There's a sister Ekovaruhuset store in Stockholm, where a lot of the energy is in green fashion these days; owner Joanna Hofring is one of the designers leading the charge on sustainable style, alongside peers Vond, Burfitt and Camilla Norrback. What's revolutionary about the Stockholm designers is the nonchalance with which they approach their environmentalist mission, assuming sustainability as a premise and then designing collections according to their own, unrelated inspirations. What we're seeing is a generational shift.

The Stockhold mindset is drifting over to America. Far from the klieg lights of New York or L.A., Portland's Anna Cohen is designing some covetable looks for her eponymous line. Incorporating cutting-edge fabrics made from soy and bamboo, Cohen's line is tailored, hip, and bookishly sexy; her collections are made up of the kinds of clothes you'd want to wear anyway. She lets style speak for itself. Cohen is still on the margins of the fashion scene, but more and more young designers are adopting her stealth-green method. Now it's up to us.