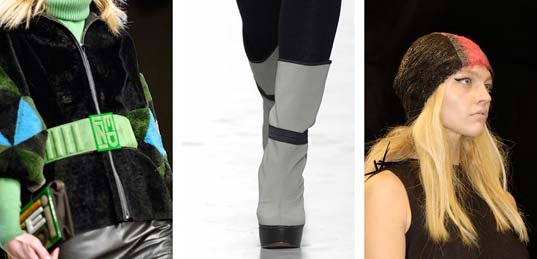 ShareThis
This week, BurdaStyle takes off, goes off and gets off track.
FASHION
SPEED
RACER
It's vastly in the interest of the big fashion houses for me to say this, but Fall 2007 really is a major season for accessories. I say it's in their interest because accessories are where the money in fashion gets made these days; whether that was a motivating factor for designers or not, much of the shows' collective energy derived from fresh ideas about how to finish an outfit. It was a busy season for stylists.
In Europe, the accessories as well as the clothes took an Alpine turn. Miuccia's bizarro Prada collection had one universal winner in boiled-wool, racing-striped hats that looked like ski caps. At Marni, Consuelo Castiglioni showed numerous ski-inspired looks, among them goggle-inspired sunglasses and webbed belts pulled around almost every outfit. Then there were the Marni moon boots: With a stiletto heel and platform sole, they're probably hell for walking, to say nothing of trying to ford a snow bank. But that's fashion for you. Bruno Pieters had his own, no more practical take on the look, showing red, black and gold metallic thigh-high boots with a high heel and a sporty feel.
Karl Lagerfeld, too, was definitely feeling the snow drift: His whole show for Chanel channeled Tyrolean resort living; at Fendi, meanwhile, he winked at ski chic by belting fur jackets with wide, neon logo belts reminiscent of parka fastening. Indeed, those snap-front belts were everywhere this season – big on the medievally black puffer coats at Burberry Prorsum; narrow around the waist of the ladylike looks Marc Jacobs showed at his accessory-obsessed Vuitton collection. (To wit, the show was titled "The Girl With the Monogrammed Handbag." Vermeer was less the important influence than the handbag, never mind the mushroomy Flemish painter caps.)
Elsewhere, ski chic made an oddball marriage with the season's other late-breaking, and possibly most directional trend: Militarism. Witness the boots at Lanvin, which like those at Marni crawled just below mid-calf for a new, sporty proportion. Triple-fastened across the front, the Lanvin boots suggested ski boot binding, but in shiny, blue-toned leather, the effect was of a punkish gendarme. Likewise, even the elegant dominatrixes at Hermes found room for a cuddly, winter wonderland gesture: Muffs made to look like clutch bags. And finally, thank heaven for Jun Takahashi at Undercover, and for Rick Owens. Neither show summoned a day on the slopes overtly; neither show was about accessories. But they had a wintry appeal of their own: Both Owens's cocoonish shearlings and Takahashi's razor-cut jackets with experimental, weather-sensitive linings had been designed, explicitly, for the weather.