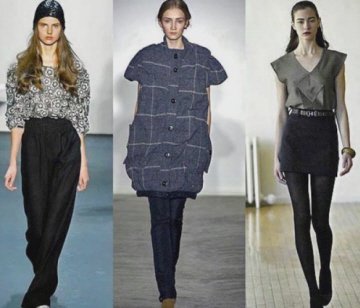 ShareThis
This week, BurdaStyle gets serious.
FASHION THE KIDS ARE ALRIGHT
In a season of grown-up clothes, it's only fitting that several young designers would do some growing up, too. Fall 2007 vaulted no newcomers to celebrity status?there were no Zac Posens or Proenza Schoulers or Thakoons out dazzling the crowd, but this season was adamantly not about dazzle. Instead, several winning young designers set about soberly finding themselves, translating the individual idioms of their respective styles into collections that were focused and mature.
The hottest newcomer by far was Chris Benz, a Parsons grad whose debut collection was preceded by two years in the J. Crew trenches. That experience showed in the clothes?a collection of preppy-gone-to-seed sportswear saved from banality by the unexpected cut of Benz's trousers, and the designer's remarkably savvy use of oddball colors and color combinations.
Californian by way of Paris, Erin Fetherston has made her reputation on both her floaty clothes and the famous people who wear them. This season, for example, pal Zooey Deschanel sang at Fetherston's show. Her dresses, in particular, were undeniably pretty, and Fetherston brought enough imagination to her collections to keep people intrigued. This season, shetoughened up: Though a sense of romance pervaded the collection, her palazzo trousers and short wool dresses seemed made, at last, for girls who live on earth, and not in fantasy.
Yigal Azrouel is an established designer?he has a shop in New York City's hip Meatpacking District, and his clothes retail at upscale stores nationwide. But the Yigal Azrouel identity has always been hard to pinpoint; his clothes were wearable, uptown sleek done with downtown panache, but they were also anonymous. Now he's made a plus of that minus, fleshing out the neutral palette and draping ideas of his spring show by aggressively working the idea of luxe separates?clothes meant to jigsaw together any which way. It worked because each piece Azrouel did, he did right: It was a collection to covet.
After an ersatz show last season, Brian Reyes reemerged for Fall with his strongest collection yet, one that married his love of preppy dressing to a strong sense of geometry. Particular standouts include his cocoon coats in windowpane checks, flirty print dresses and metallic sacks and shifts. The show had an interior coherence, suggesting Art Deco architecture here, and its contemporaneous street style there, and overall, the trade between sculptural looks and vintage-inspired one reemphasized that Brian Reyes is a designer who understands our own mix-and-match times.
Canadian designer Jeremy Laing emerged in New York a couple years ago, following stints at London's Preen and at Alexander McQueen. His clothes were always more conservative than that pedigree would suggest, but also just as immaculately and innovatively cut as that pedigree would allow you to hope. This season was a leap forward for Laing: He took two fundamental ideas, curvy, body-conscious dressing on the one hand, and abstract, origami-inspired details on the other, and worked both those ideas out individually and together for a show that was consummately, coolly elegant.