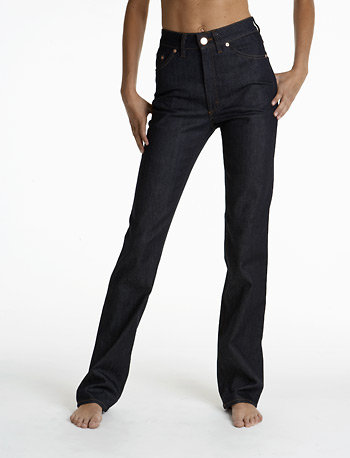 ShareThis
This week BurdaStyle gets Stockholm syndrome.

GEAR

DU

NORD

H&M may be the 800 lb, gorilla of Swedish fashion, conquering the world with its aim high-sell low retail strategy, and coercing the likes of Karl Lagerfeld and Madonna into producing sell-out collections for the store. Everyone knows that story. But if you really want to take the pulse of style in Sweden, you've got to start with the jeans.

For Sweden is rapidly turning into the cult denim capital of the world, a crown sacrificed by Japan as the '90s ebbed, and then ricocheted back and forth around the globe as luxury denim bec ame the defining fashion fetish of the post-millennial era. In the past few seasons, however, a critical mass has emerged in Stockholm, home to not one, not two, not even three, but four deservedly coveted denim lines. Sure, some might argue, New York City is home base to a bunch of high-end denim labels; seemingly countless more hail from L.A. But consider, first, that the concentration of Cheap Monday, Nudie, WeSC and Acne jeans in Stockholm is a circumstance all out of proportion to the city's size: Fewer than 800,000 people live in the city center; the metro Stockholm area boasts a population just under two million. In comparison, approximately 19 million people live in our around New York City, and about 18 million folks hang their respective hats in greater L.A.

Consider, also, the fact that Cheap Monday, Nudie, WeSC and Acne waste very little energy copycatting one another. Each of these brands has its own identity and aesthetic, and they are taking very different paths as they expand.

Cheap Monday is probably the best known of the Swedish jeans lines, justly famous for poking the luxe denim market right in the eye by selling fashion-forward jeans with an amazing fit for only $65. What began as the in-store label for the Weekdays shops in Stockholm and Gothenberg has turned into an international phenomenon, primarily on the back of those jeans, but winning a following, too, for its punkish sportswear. Those clothes are hitting U.S. stores for the first time this spring, and in the meantime, Cheap Monday guru Orjan Andersson is staying ahead of the curve by reversing course entirely, introducing a higher-end line, Qoniak, that takes its inspiration from club culture. Again, the mood is youthful, street, irreverent. Just not as cheap.

Nudie took a very different path to market: Maria Erixon was formerly the head designer at Lee, and her years in the jean-making trenches show in Nudie's denim cultist philosophy. Unlike Cheap Monday, which switches up styles on a regular basis in the expectation that its customer's taste is on-the-move, Nudie makes only a few rigorously simple styles, they are pricy, and they are built to last. Erixon is a freak for things like dry selvedge weight, and she designs her jeans to age on the body. One best-selling pair of Nudies, from the original men's collection, urges wearers to wait 6 – 8 months before they wash their jeans.

Like Nudie, WeSC exudes a sort of missionary zeal. But the brand is not nearly so dogmatic. WeSC is an acronym (sort of) for We are the Superlative Conspiracy, and the company's philosophy is, broadly but pithily, "life after skate." Founded by a group of hardcore skaters and snowboarders, WeSC has, from its formation in 2000, attempted to take skate consciousness out of the half-pipe and into the street, as fashion, and then onto the culture-at-large via its informal brand ambassadors, the WeActivists. The company has built a large, thriving brand on the back of the relatively simple notion, one not often articulated or embraced by fashion labels, that clothes are what you wear while you do stuff; the WeActivists express the further idea that WeSC apparel, notably its basic and premium jeans, is the clothing worn by people who do interesting things.

Acne takes that concept a very large leap forward: Acne Jeans is part of a larger collective of creatives, and the Acne brand, writ large, has its hand in quite a bit of Swedish culture. Acne Digital comprises web designers, animators and motion effects specialists; Acne Film has directed and produced ads for a large roster of major brands, Swedish and international; Acne Creative conceives marketing campaigns for clients ranging from the collective's companies to Sweden's Social Democratic party. There's the twice-yearly Acne Paper magazine, and then there are the jeans. Although Acne Jeans' denim serves as a masthead not only for the apparel end of the collective but also for the collective as a whole, at this point the jeans themselves comprise a small part of any Acne collection. Strictly from a fashion perspective, Acne's clothes are the most developed and interesting among the Swedish lines; if WeSC is taking on brands like Quicksilver and Burton with its clothes and rapid expansion of stores, Acne is going after A.P.C., and Helmut Lang turf with its edgy reinterpretations of classic sportswear. Even when they push a silhouette in some surprising new direction, the Acne designers are sticklers for detail, and for a sense of the rigor with which they operate, one need look no further than the denim perennials in the line, which feature exacting construction and fit and which come in a range of perfectionist washes, such as an inky blue-black you won't find anywhere else. How they find time to finesse the jeans to standard and do everything else the collective demands of them, I'll never know. But in a city like Stockholm, of fewer than a million people, apparently even the denim masterminds have to be multitaskers.